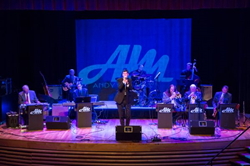 DUNCAN, Okla. (PRWEB) February 05, 2020
Through the generous sponsorship from Arvest Bank and Duncan Area Economic Development Foundation, CTAC Live will bring the ANDY MEADOWS BIG BAND to Duncan on Friday, February 14th @ 7:30 pm. This is the last concert of the 2019-2020 CTAC Live Concert Series and will be held at the Simmons Center Theater.
Andy Meadows big band performs his unique blend of crooner music, big band swing, western swing, jazz and country. Born in Flint Michigan and raised in the Texas Hill Country, Andy Meadows has been around music and the stage his entire life. His family owned and operated a country station in Texas, his father led the music in church and often invited a young Andy up to sing solos, his mother taught high school drama, and Andy began writing songs at age 16 and formed his first band a few years later. After getting a full scholarship to Texas Tech to study opera and later transferring to South Plains College to focus on commercial music, Andy went to work in radio.
Accompanied by a vibrant 10 piece band, Andy's live show delivers vocals powerful enough to compete with the likes of Harry Connick Jr., Michael Buble and Frank Sinatra. Plus, Andy's all-star band includes a group of phenomenal musicians who have played with everyone from Bruce Springsteen to Aretha Franklin and Natalie Cole to Faron Young. Their unique blend of country, jazz, big band, swing, western swing, and blues work perfectly in concert halls, theaters and dance halls. With his 3 piece suits and his impromptu interactions with the crowd, Andy Meadows is a throwback to a time when musicians truly were entertainers.
Andy's most recent release, in 2018, was Bourbon Sessions Vol 1 with two new originals and the band's take on three more classics. In 2016, Modern Day Crooner was released which features Meadows' version of six classic songs as well as four of his originals. Others include Sounds Like Christmas an EP featuring 4 holiday classics and an original he co-wrote with producer Jason Manning called "When You're in Love on Christmas.
For more ticket information, please call the CTAC office at 580-252-4160 or visit http://www.chisholmtrailarts.com.
Chisholm Trail Arts Council is a nonprofit organization with a mission of "Promoting and Inspiring the Arts in Southwest Oklahoma". CTAC receives support through Oklahoma Arts Council, McCasland Foundation as well support from businesses and memberships.