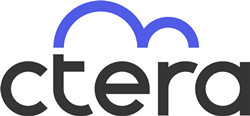 NEW YORK (PRWEB) June 23, 2021
CTERA, the edge-to-cloud file services leader, announced it was named Hewlett Packard Enterprise (HPE) Edge-to-Cloud Momentum Partner of the Year for 2021 during the Partner of the Year Awards presented at HPE Discover.
The 2021 HPE Partner of the Year Awards recognize HPE partners from across the ecosystem for their incredible commitment to customer excellence, continued strong performance, focus on growth, and dedication to mutual achievements. Winners were selected based on financial performance, innovative solutions, and ability to drive transformative business outcomes for shared customers.
CTERA offers a software-defined, multi-cloud data management platform enabling modern file services across HPE's data storage and HCI portfolio. CTERA's global file system technology connects core, branch, and remote users over a single namespace and delivers HQ-grade performance and security from any edge location or device, dramatically simplifying the cost, scale, and complexity challenges of traditional file storage solutions for the new era of distributed and remote work IT.
George Hope, Worldwide Head of Partner Sales, HPE: "In the last year, I've seen HPE partners go above and beyond the call of duty. I'm incredibly proud to honor them with these accolades. As a channel-led company, HPE is committed to supporting our partners with the best-in-industry innovation, initiatives, and expertise to drive differentiation and deliver better outcomes to our shared customers. We are grateful for the continued strong partnership, which allows us to collaborate and grow together, while setting a new standard for our joint success."
Oded Nagel, Chief Strategy Officer, CTERA: "As organizations rethink their file storage strategies in the post-COVID era, they are shifting away from traditional NAS systems to cloud-native solutions that provide fast and secure user and application data access wherever they are. We're proud to partner with HPE to provide holistic unstructured data management across all clouds and edges. It's a tremendous honor to be named Edge-to-Cloud Momentum Partner of the Year at HPE Discover, the premier edge to cloud conference in the world."
Supporting Resources:

About CTERA
CTERA is the edge-to-cloud file services leader, powering more than 50,000 connected sites and millions of corporate users. CTERA offers the industry's most feature-rich global file system, enabling enterprises to centralize file access from any edge location or device without compromising performance or security. The CTERA Enterprise File Services Platform makes it easy for organizations to consolidate legacy NAS, backup and disaster recovery systems, and collaboration platforms while reducing costs by up to 80 percent versus legacy solutions. CTERA is trusted by the world's largest companies, including leading industrial, media, and healthcare organizations, as well as the U.S. Department of Defense and other government organizations worldwide. For more information, visit http://www.ctera.com.
Follow CTERA on Social Channels: