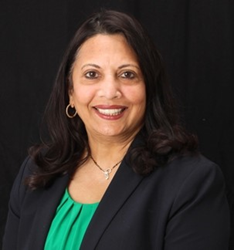 ROCKVILLE, Md. (PRWEB) February 12, 2020
CTIS, Inc., is a Women Owned Small Business.
We are honored to have our CEO, Bharti Shah, named 2020 Winner of the FCW Federal 100 Awards!
FCW Fed100 Awards
Mrs. Shah leads CTIS, Inc. as the CEO, provides mission critical IT solutions to the Cancer Therapy Evaluation Program (CTEP) at the National Cancer Institute (NCI). The NCI and CTEP are one of the world's largest public sponsors of cancer clinical trials. CTEP Enterprise System (CTEP-ESYS) supports the management of investigational anticancer agent development and oncology trials. Bharti's firm develops, modernizes, maintains, secures, and operates the CTEP-ESYS, which enables NCI and the scientific community to focus on scientific opportunity, patient safety & finding better ways to treat, control & cure cancer. Under her leadership CTIS invested in training and onboarding all staff onto test automation. Her human-centered technology focus enabled CTIS to implement Acceptance test-driven development (ATDD). ATDD is a combination of Test-Driven Development (TDD) and Behavior Driven Development (BDD) and puts the end-user and quality at the forefront while building software
Mrs. Shah is an individual with outstanding ability, intellect, and personal warmth.
Mr. Raj Shah, Founder & Chairman Emeritus says, "Bharti has been a key part of CTIS history and is an individual with outstanding ability, intellect and personal warmth".
Sharon Hrynkow, one of her nominators, "Her appreciation of business elements coupled with the very human elements involved in the health informatics enterprise serves as an inspiration to us all".
Craig Cheifetz, another nominator adds, "What puts Bharti amongst the top is all this and more. She is an immensely genuine person, a person who cares about the mission and her people, and her ability to engage her teams to care deeply about CTIS's mission that in its work impacts all who are family, friends, community, and seeking healthcare".
About CTIS (http://www.ctisinc.com)
CTIS is a Women Owned Small Business, with proven expertise in providing informatics solutions for over 30 years. CTIS is amongst a few US Federal Government Contractors appraised at CMMI Level 3 using CMMI DEV 2.0 as well as a SAFe® Bronze Partner.
CTIS' capabilities span the IT enterprise and associated operational lifecycles with extensive experience providing mission-critical oversight, strategy and planning for our government clients. We provide web strategy, IT program and strategic IT initiatives support, enterprise information management, big data, mobile applications, web development, optimization and production support, document management, web operations, software applications development and maintenance support, secure and robust infrastructure management, and training. CTIS supports its partner agencies by bringing unique and innovative approaches to offer leading technology solutions and empowering stakeholders