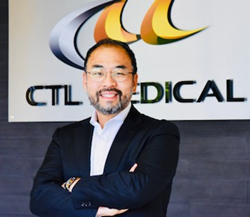 This will help solidify us as the world's next leader in spine.
DALLAS (PRWEB) September 06, 2018
CTL Medical Corporation has entered into a definitive agreement with Amedica Corporation (NASDAQ: AMDA) to purchase its commercial spine business, which includes its complete portfolio of spine-related patents and 510ks, as well as any technological advancements directly related to the spine that result from it. The deal will make CTL Medical the world's exclusive provider of silicon nitride spine products and give it unique access to markets like Brazil and Australia, and widen its European footprint, further strengthening its position as a global leader serving the spine industry.
"This will help solidify us as the world's next leader in spine," said Daniel Chon, CTL Medical president and CEO. "Amedica has made great strides in silicon nitride development and we look forward to being the world's exclusive provider. At CTL Medical, our goal is to create products that continue to improve outcomes for both the surgeon and the patient. Silicon nitride technology is backed by extensive science, clinical findings, and published research that clearly show its benefits. We will have the ability to apply this technology across our entire product line and fold-in the Taurus, Preference and Valeo brands developed by Amedica."
According to Dr. Sonny Bal, chairman of Amedica's board of directors, silicon nitride is "ideal" for spinal implant technology.
"We now have sufficient scientific evidence -- including long-term clinical data -- to show that Amedica's silicon nitride is the ideal biomaterial for spinal implants; with unique anti-bacterial properties, proven mechanisms of bone healing, and clinical outcomes showing faster spinal fusion," noted Bal.
He added that Amedica will continue silicon nitride research and development for other biomedical applications.
The agreement is expected to close during the third quarter of 2018. After it is completed, CTL Medical Corp. will be known as CTL Amedica.
CTL Medical Corporation is a medical device company headquartered in Dallas that designs, develops and manufactures spinal implants and instruments tailored to fit the unique needs of surgeons and patients in the United States and beyond. CTL Medical Corporation has an in-house manufacturing facility, an R&D Center of Excellence, and a full line of cervical, thoracic and lumbar products. For more information, visit https://ctlmed.com/.
Contact:
Rose Moore
CTL Medical Corp.
214-545-5820 main
972-809-0696 cell
RMoore(at)CTLMed.com