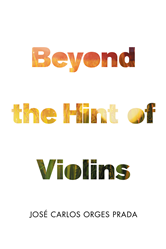 "I have sought relief and found support from my writing," said Prada. "Each poem was inspired on its own, and the circumstances and motivations to write them were very varied. They came to exist out of a necessity to put certain feelings and experiences into words."
NEW YORK (PRWEB) February 06, 2023
Poet José Carlos Orges Prada has lived a full life, residing in the United States, Sweden and Spain, yet has been unable to reconcile the painful feelings of being exiled from his home.
Born in Cuba in 1974, Prada was forced into exile in 1994, due to the difficult political situation of the country. In his collection of poems entitled, "Beyond the Hint of Violins," Prada explores his life experiences, his identity, and the world around him. His musings speak of disappointment, love as a sublime state, and the heartbreaks that left him devastated. They also speak of exile, its painful uprooting, and the bitter and alienating feelings it left behind.
"I have sought relief and found support from my writing," said Prada. "Each poem was inspired on its own, and the circumstances and motivations to write them were very varied. They came to exist out of a necessity to put certain feelings and experiences into words."
"Beyond the Hint of Violins" was originally released in 2019, written entirely in Prada's native tongue of Spanish and entitled "No Sólo Tinte De Violines." Since then, he has taken the time to translate the book into English to make it available to a wider audience.
"Beyond the Hint of Violins"
By José Carlos Orges Prada
ISBN: 9781663238139 (softcover); 9781663238146 (electronic)
Available at iUniverse, Amazon and Barnes & Noble
About the author
José Carlos Orges Prada was born in Havana, Cuba, in 1974. His parents, originally from the eastern province of Holguín, instilled the habits of reading and study into him at a very young age. He started to write poetry as a teenager, and later developed a clear love of the arts, leading to him study English philology at Universidad Complutense in Madrid, Spain. Following his forced departure from Cuba in 1994, due to the difficult situation of the country, he has lived in Sweden, Spain and the United States. He currently lives in New York City. To learn more, please visit http://www.iuniverse.com/en/bookstore/bookdetails/828109-beyond-the-hint-of-violins.