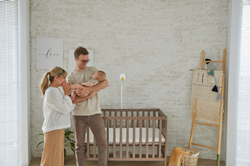 24 hours later, due to high demand, the baby monitor is now on backorder worldwide and has made it to the top 10 list on Amazon for New Releases and Baby Monitors in the U.S.
LOS ANGELES (PRWEB) August 05, 2020
After Cubo Ai launched the second generation of smart baby monitor with A.I. safety alerts for baby's sleep, safety, and memories on August 4, 2020, parents quickly purchased every unit. The baby monitor shot to the top of Amazon lists and sold out immediately.
Some of the milestones Cubo Ai Plus reached on Amazon during the first day of sales include:

#1 Best Seller — AU Baby Monitor
#1 New Release Baby Monitor
#9 Best Seller — U.S. Baby Monitor
This isn't the first time Cubo Ai has shocked the industry. The company broke crowdfunding records in 2019 with the release of their smart baby monitor with proactive A.I. safety detection alerts, notifying parents if their baby's face was covered and if they rolled over.
Within a year, they won five major awards for innovation in baby safety. Now, their newly-released Cubo Ai Plus, retailing at $349 with a $100 off launch special, sold out in just 24 hours. Part of the appeal of the brand new Cubo Ai is the one-year free subscription to Cubo Premium, offering 30-day sleep analytics and a 30-day moments wall storage of automatically-captured photos and videos of users' babies. The unit also offers upgrades to the stands, camera, speaker, microphone, and general design of the previous unit, all with the same innovative technology to keep babies safe.
WHY PARENTS LOVE CUBO AI

Cubo Ai's tech and design are specifically made to detect baby safety risks from age 0-5+ making it a baby product with one of the longest shelf lives in the industry.
Its all-in-one features allow parents to track baby sleep, keep precious HD photos and videos of their family, and starting this fall, integrate with smart home devices and soothe baby with white noise and lullabies without buying additional bluetooth speakers or sound devices.
Cubo Ai's launch price made it the most-affordable smart baby monitor on the market with all the top-wanted features.
Cubo Ai's first generation is already loved and trusted by 40,000 parents around the world.
Cubo Ai has been tested and awarded "Best in Safety" by experts from JPMA, the CES 2020 Innovation Awards, Mom's Choice, The National Parenting Awards, and Cribsie.
Cubo Ai made its debut into the smart baby monitor market in 2019 after Co-Founder Joanna Lin, an IVF mom, found her baby's face covered by a bib. Though he was unharmed, the silent incident kept her up at night for months. So she teamed up with a pediatrician and A.I. experts to create proactive tech to detect babies' covered-face and rollover events. Since then, the monitor has made its way into thousands of homes and given parents all over the world, who worried just like she did, peace of mind, better sleep, and memories to last a lifetime.
Other Cubo Ai Plus features include built-in lullabies (coming Fall 2020), allowing parents to play classical music, white noise, or nature sounds for a baby dream soundtrack via the Cubo App. The baby monitor also has a new Full HD night vision with a Sony Starlight Sensor, 18-hour video playback with the option to record and take photos, and see event tags from baby's sleep. Even more exciting, and coming this fall, Cubo Ai Plus will be able to integrate with smart devices such as Google Home and Amazon Alexa. Cubo Ai Plus is still taking orders to be fulfilled in September and can be purchased on Amazon and on http://www.getcubo.com.
ABOUT CUBO Ai
Cubo Ai was created with proprietary technology to proactively warn parents of dangerous situations such as covered face events so that parents can step in when their babies need them most. Every Cubo Ai feature is designed to enhance baby safety and store lasting memories. Cubo's mission is to help every parent in the world find peace of mind and joy in their parenting journey. For more information about Cubo Ai, visit https://getcubo.com.