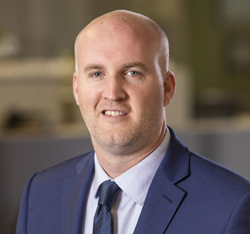 We are excited to bring Andrew on board. He brings with him a tremendous amount of experience in the retail design area and will help us bridge the gap between design and technology. - Jeff Suchan, C&P Chief Development Officer
ORLANDO, Fla. (PRWEB) September 17, 2019
Cuhaci & Peterson Architects, Engineers and Planners welcomed Andrew Dorin to their Orlando location in the role of Principal. Dorin will be focused primarily on the firm's retail and developer clients and has a wealth of knowledge in design, master planning and space programming for mercantile retail, specialty retail, grocery, office, mixed-use and shopping center developments. Andrew is also well versed in building codes, zoning, permitting, construction techniques and current material trends/economies.
Additionally, Dorin stated, "I believe in taking innovative approaches by utilizing technology to push the boundaries of normal architectural visualization techniques and mediums." To that end, he will be actively involved with the firm's technology group, as Cuhaci & Peterson expands virtual reality (VR)/augmented reality (AR) work (including newly released concept, The Omni-Store) and Building Information Management (BIM)/Revit capabilities.
C&P Chief Development Officer, Jeff Suchan, "We are excited to bring Andrew on board. He brings with him a tremendous amount of experience in the retail design area and will help us bridge the gap between design and technology."
Dorin, a registered architect with more than 12 years of professional experience, is also LEED Accredited Professional in Building Design and Construction. He completed his undergraduate work at Temple University, where he earned a bachelor's degree in Architecture before getting an MBA from Georgian Court University. Prior to relocating to the firm's Orlando office in 2019, he was based in the Northeast and worked on a variety of commercial project types.
About Cuhaci & Peterson
Cuhaci & Peterson is a national architecture, engineering and planning firm specializing in end-to-end commercial design solutions. Headquartered in Orlando, Florida since 1978, the firm also has offices in Philadelphia and Boston and is licensed in 49 states. C&P's mission of transforming ideas into value is enhanced by a staff of experts who collaborate with clients to translate their visions into designs that elevate their brands. For more information go to http://www.c-p.com.