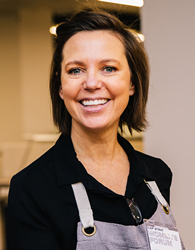 "I'm not suggesting the local burger joint change their menus to tofu and kale. I'm just asking them to think about the influence they have on our health." - Monique Costello, Culinary Nutrition Expert
COLUMBUS, Ohio (PRWEB) February 10, 2020
Every year, the Mid-America Restaurant Expo attracts thousands of foodservice professionals seeking out operational-focused industry speakers, restaurant vendors, and celebrity chefs. This year attendees will learn about another side of the restaurant industry - nutrition. Culinary Nutrition Expert, Monique Costello, will conduct a live cooking demo on February 24, 2020, during the Expo, and will discuss the role restaurants can play in keeping America healthy. Monique will demonstrate easy, gut-healthy dishes that can be added to any menu, and how these dishes can generate greater profitability for restaurants.
When it comes to running a restaurant, serving delicious food that patrons come back for is the core of a restaurant's success. Restaurant owners struggle with delighting their customer's palate while trying to lower food costs. In doing so, the nutritional value of the dishes they serve, and the diner's health can suffer. Lower-quality ingredients are often used to keep food costs down. And to satisfy diner's palates, more sugar, salt, and fat are typically added.
As a former restaurant owner who was plagued with debilitating health problems, Monique Costello understands restaurant owners' challenges in managing food costs. After eliminating her health problems by eating only good food, Monique became a certified nutritionist. She devoted her life to educating people on the healing capabilities of food. Since restaurants play an important role in feeding America, Monique encourages restaurant owners to add more healthy menu options and teaches them how to make their popular dishes healthier.
"On average, Americans are eating restaurant food four or more times per week," commented culinary nutrition expert, Monique Costello. "If you factor in technology & apps that make ordering and obtaining restaurant food easier, that number could climb. I'm not suggesting the local burger joint change their menus to tofu and kale. I'm just asking them to think about the influence they have on our health. And I'm recommending they add a nutritious offering or two to make it easier for their guests to eat healthy."
"We're thrilled to have Monique in our stellar lineup of industry experts and celebrity chefs at the 2020 Expo. Her expertise and perspective will give attendees a real taste of the healing power of healthy eating and delicious, nutritious food for their customers and beyond," said Shoshanna Gross, Ohio Restaurant Association Manager of Major Events and Expo Producer.
The Mid-America Restaurant Expo will take place on February 23 & 24, 2020, at the Greater Columbus Convention Center, Hall B, 400 North High Street, Columbus, Ohio. Attendance is open to anyone directly involved in the foodservice industry. Industry professionals interested in attending the event can register online at midamericarestaurantexpo.com . Attendees interested in participating in Monique's, February 24 hour-long cooking demo, should be at the Demo Stage by 11:30 am.
About Monique Costello:
Monique Costello is a culinary nutrition expert, chef, integrative health coach, and healthy eating blogger. She has been featured on The Food Network and can be seen conducting healthy cooking demonstrations and guest speaking's at food and health events throughout the United States. Monique is often sought after by restaurant owners looking to add healthy menu options, and by top producers of healthy food products to formulate and test recipes. For Monique, healthy eating is personal. After curing her debilitating health problems by changing what she ate, today, Monique most enjoys teaching people how to reverse health challenges through good food. To learn more about Monique, visit moniquecostello.com
About Mid-America Restaurant Expo
The Mid-America Restaurant Expo attracts many experts, exhibitors, and operators from throughout the Midwest to discuss the latest trends and topics affecting the restaurant industry. Its exhibit hall showcases the newest equipment and tools created specifically for restaurants, in addition to the most innovative food and beverage products available. Centered on collaborative education, the Expo features many educational seminars available to all attendees. The show is geared toward independent operators, regional chains, and is perfect for start-ups and veteran operators alike. To learn more about the expo, midamericarestaurantexpo.com