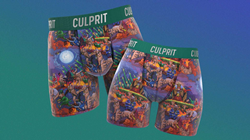 "Our commitment here is to the brave people of America willing to risk some of their own personal savings to stand up for what they believe in; we want to help give wedgies to the hedgies, and leave all of our customers wedgie free in the process."
LOS ANGELES (PRWEB) March 15, 2021
Culprit Underwear, who is known for ultra breathable and sustainably made in the USA underwear with unapologetic designs, has picked a side in the financial battle of the century. Culprit is adding fuel to the fire and taking a stand with Reddit's retail investors against greedy hedgefunds. Purchasing their latest print, The Pig Short, lets customers and fans of the brand not only own these wildly comfortable underwear, but also lets them own a piece of history; 100% of proceeds from sales of The Pig Short are used to buy and HODL (slang for relentless Holding of a stock or crypto) GameStop stock. Purchasers of this design will be emailed once the 'Squeeze has been Squoze' to vote on what to do with the 'Tendies' (profits). Voting will include sensible options like which charity or cause to donate to, or nonsensical options like 'Burning it all like the Joker' or a lottery style give-away of a Lambo "or equally stupid purchase for a lucky buyer or buyers of the underwear." Just when you thought the GameStop saga would stop, Culprit is assuring everyone it's just getting started.
Culprit believes in sustainability and ethics, while at the same time not taking themselves seriously. They created this print to extend support to the individuals fighting Wall Street. The Pig Short is designed with distinct imagery of the piggish greed and rampant hedonism of a crumbling Wall Street, including pigs running from a burning hedge to Robinhood being spitroasted. In the hero section, you can see alongside the brave saints of r/WSB is Papa Elon (Musk), Mr. Stonks, and a Doge moon. Culprit has made it clear they are not making any money from the sale of this product and is indeed actively buying and holding the stock. And no, this underwear is not financial advice, we just like the stock.
Culprit is already actively buying and holding the stock from all proceeds from the sales of The Pig Short. Once our squeeze has been squoze, all owners of The Pig Short will be contacted to vote on what charity the proceeds will be donated to. This limited-time item will be a commemorative piece of history and is available now on Culprit's website as both men's boxers and LadyBoxers™.
From Culprit: "Our commitment here is to the brave people of America willing to risk some of their own personal savings to stand up for what they believe in; we want to help give wedgies to the hedgies, and leave all of our customers wedgie free in the process."
Culprit Underwear was founded with a simple mission to produce quality, sustainable, and ethical products within the United States. But we've learned that we can do even more than that, and so we created The Pig Short, our personal tribute to this fight with all of the pigs of Wall Street wallowing in their own self-created hell.
Every pair of The Pig Short will be spun in our eco-friendly vertical mill in California, providing you with breathable, supportive, and attractive underwear. As with all of our products, these also include our 100% customer satisfaction promise of your best pair or your money back, and are eligible for free shipping when purchasing two or more pairs directly from Culprit Underwear. With any purchase, new and existing customers can earn rewards on our site through our Culprit Cash program, with each dollar spent granting five Culprit Cash that can be spent towards gift vouchers on any product from us.
Culprit Underwear is an independently-owned and operated company based in Los Angeles, California on the iconic Sunset Boulevard. Our products are made locally in the United States and are produced with sustainability and ethics in mind, with customer-first policies including a 100 day money back guarantee. Customers can follow us at @Underwear on Instagram, as well as on Facebook, YouTube, and the Culprit Underwear website.