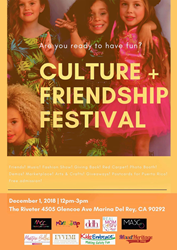 Multiculti Corner events gather together people of all races, cultures, creeds, skin tones, abilities and genders.
LOS ANGELES (PRWEB) December 01, 2018
Multiculti Corner presents Culture + Friendship Fashion Show & Charity Event this coming Saturday, December 1st from 12-3 pm at The Riveter Marina Del Rey. Join us for a family-friendly day of culture, friendship, community, fashion, charity, and celebration! There will be music, arts & crafts, red carpet, photo booth, demos, giveaways, and a fashion show. Multiculti Corner events gather together people of all races, cultures, creeds, skin tones, abilities and genders. Our intention is to recognize, embrace, inspire and celebrate one another.
The key event organizers to bring Culture + Friendship to life, were two very driven, dedicated and passionate mompreneurs. Delia Douglas, owner of DDHPR; and Sonia Smith-Kang, owner of Mixed Up Clothing together created Multiculti Corner, a diverse community of people and Multicultural families hosts social, educational, and celebratory events.
Panel Discussion-
This event will draw attendees from all over Los Angeles, for a panel discussion on how and when to begin speaking with children about culture and friendship. Event attendees will be provided with conversation starters, helpful information, and educational resources to empower attendees and the children in their lives to talk about family heritage.
Hair Demonstration-
Wendi Levy and Kim Etheredge Founders of Mixed Chicks Hair Products will be on-site doing a live demonstration and tutorial with Mixed Chicks Hair Products. Tune in for styling tips, product suggestions and seasonal must-haves.
Fashion Show-
The Culture + Friendship fashion show will feature toddlers to teens walking the runway adorned in collections from Pia Gladys Perey, Uniquely Wired M, and Mixed Up Clothing.
Charity Element -
The Multicultural Heritage community is the second fastest growing community in the U.S.; interracial marriages are on the rise according to Pew Research Center, and 40% of all adoptions in the U.S. are transracial. Los Angeles is one of the most diverse cities in the U.S
In an effort to give back to this growing community and continue to bring awareness, proceeds of sponsorship donations will support Multiracial Americans of Southern California (MASC) a 501c3 serving, supporting and advocating for the multiracial and transracially adopted community for over 25 years. Additionally, a year after Hurricane Maria Puerto Rico is still feeling the effects and in need of assistance. Culture + Friendship sponsors and attendees are doing what we can to help; toys and donations will be collected to benefit the embattled U.S. territory. Kids Embrace will be donating 100 car seats to families in need on 'la isla del encanto'.
What: Culture + Friendship Fashion Show & Charity Event
When: Saturday, December 1st, 2018 12-3 PM
Where: The Riveter 4505 Glencoe Marina Del Rey, CA 90292
RSVP:: https://www.eventbrite.com/e/culture-friendship-festival-tickets-52511045952?aff=ebdssbdestsearch
Special thanks to our event sponsors, FORD Motor Company, Kid Fash Magazine, Joy Mode, Mixed Up Clothing, DDHPR, Kids Embrace, Pia Gladys Perey, Uniquely Wired M, Evvemi, Mixed Chicks Hair Products, and Bobby Brown Foods. Sponsorship opportunities or if you would like to cover this event please contact: Delia Douglas delia(at)ddhpr.com