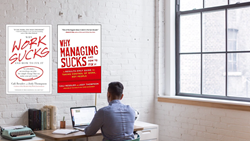 "ROWE treats us all as entrepreneurs, with clear goals and regular measurement against those goals." Evan Siddall, President and CEO, CMHC
MINNEAPOLIS (PRWEB) May 14, 2019
CultureRx® is pleased to announce that Canada Mortgage and Housing Corporation (CMHC), Canada's authority on housing, has been granted the status of ROWE™ Certified Organization.
Developed by CultureRx®, ROWE™ stands for Results-Only Work Environment™ and is a proprietary and innovative management methodology implemented globally, in which employees are evaluated strictly on performance, rather than merely maintaining a presence in an office or at a worksite.
"CMHC's goal is that 'by 2030, everyone in Canada has a home that they can afford and that meets their needs.' To achieve that goal, we have invested in our technology platform and transformed how we work in order to give our employees greater autonomy. ROWE treats us all as entrepreneurs, with clear goals and regular measurement against those goals."
Evan Siddall, President and CEO, CMHC
Jody Thompson, who co-created ROWE™ along with Cali Ressler, says retaining talent is one of several benefits ROWE™ organizations experience. Increased productivity also stems from employees gaining greater clarity on expectations, goals and performance measures, then being "trusted as working adults to make the best decisions" on the best way to achieve successful outcomes.
"For many organizations, the real foundational issue is that people are often not doing the hard work of getting clear about goals and measures. It's up to employees and managers to have a two-way dialogue about expected results, then have objective measures put against them," says Thompson.
"Once an employee has that understanding of what they have to deliver, along with clear performance measures, it's up to each employee to make decisions about how to meet those expectations over time. A ROWE is equal amounts of autonomy and accountability – a work platform where competent adults thrive."
As a ROWE™-Certified Organization, CMHC is formally recognized as adhering to the following standards:

A culture where each person is 100% Autonomous (self-governing and independent) and 100% Accountable (responsible and answerable to agreed upon, measurable results).
Testimonials:
"In a ROWE, we progressively saw the elimination of meetings that were useless or had no added value. We changed the way we communicated and interacted with each other by making a conscious effort to be very clear about our requests and needs. We also made an effort to better plan and clarify our responsibilities." CMHC Manager
"For us, work now is something you do, rather than somewhere you go. And where job performance is measured by the results achieved as opposed to hours worked or face-time. The location you choose to work is one of several tools, like your laptop, to achieve those results. Gone are the days where you need permission to attend a doctor's appointment or your child's recital. The benefits were instantaneous, unlocking enablement and fostering a workplace that allows employees to find their own work-life integration mix, without guilt or judgment. By innovating how we work, we've been able to promote diversity and flexibility, so we can better manage our personal and family demands." CMHC Employee
About CultureRx
CultureRx® is a professional consulting firm founded by Jody Thompson and Cali Ressler, creators of the Results-Only Work Environment™ (ROWE™). ROWE is a proprietary management strategy where each person is focused solely on results, increasing organizational efficiency and output while creating a climate in which employees can manage all of life's demands. CultureRx is the official provider of the ROWE implementation process in public and private sector organizations - in both for-profit and non-profit settings