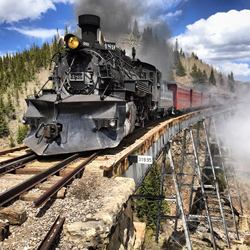 ANTONITO, Colo. (PRWEB) April 16, 2021
In what is very promising news for Southern Colorado and Northern New Mexico, advance ticket sales for the Cumbres & Toltec Scenic Railroad (C&TSRR) have nearly recovered to pre-pandemic levels of 2019.
"We're thrilled to be closing in on the high level of pre-season sales we experienced before the pandemic," said Eric Mason, interim CEO of the C&TSRR. "Considering many travelers are still taking a 'wait-and-see' approach to travel, we're optimistic that our early reservations bode well for a strong season and are a very positive economic indicator for tourism in the region."
The Railroad is encouraging riders to book early. Due to current capacity limits, the C&TS can only sell a percentage of seats on every train. "If you want to ride the C&TSRR in 2021, it's best to book early," Mason advised. "We are hopeful that safety restrictions will loosen in the coming months allowing us to offer more capacity, but between current capacity and pent-up demand from riders who missed last year, we anticipate we'll have some sell-out weekends."
Owned by the states of Colorado and New Mexico, the C&TSRR is a major tourism attraction for the area. It is the highest, longest and most authentic steam railroad in America, judged by the readers of USA Today three times (the latest in 2020) as the best scenic train trip in the nation. As the railroad business goes, so goes the tourism economy in a vast area of both states.
TWO OPENING DAYS IN 2021: ANTONITO, MAY 29th & CHAMA, JUNE 5th
This year, there will be two Opening Day celebrations; the first on May 29th will open the season in Antonito, and the second, a week later on June 5th, will open Chama's season. Both celebrations will feature music, entertainment, refreshments, blessings of the train by local spiritual leaders, and remarks by local dignitaries. There is always a crowd of rail fans eager to welcome the first trains of the season. Tickets are available for purchase to ride the first trains of the season out of either station.
Of special note, the Antonito Opening Day will include a private run of the remarkably restored engine No. 168, an 1883 locomotive that pulled passengers from 1883-1938, before being retired and placed in honor in Antlers Park in Colorado Springs as a reminder of the importance that railroads played in the West. Incredibly, after sitting for 75 years in the park, exposed to all the elements, the locomotive was returned to Antonito and completely restored and now will return to its original route. On Opening Day, #168 will pull a private train with supporters who helped make this restoration possible. After the #168 departs on its run, passengers will board the Antonito Express for the first ride of the season open to the public. Tickets for Opening Day on the Antonito Express are available online.
NEW SIMPLIFIED RIDE OPTIONS
In 2021, the most popular train rides will be the full day options, the Antonito All-Aboard and Chama All-Aboard. Each will depart throughout the week from their respective stations and travel to scenic Osier Station, where passengers will get off the train for a delicious hot lunch of turkey, meatloaf, hearty sides and desserts, with gorgeous Rocky Mountain views in all directions. Passengers will then board their same train and return to the station of their origin. Each route features stunning scenery and the thrill of stream railroading.
NEW 2021 ADDITIONS
In addition to the full day trips from Antonito or Chama, there are completely new routes available in 2021. "To accommodate people with less travel time, we have introduced several new runs: the Cumbres Express will, for the first time, pick up passengers at the 10,015 feet summit of Cumbres Pass and offer a shorter version of the ride, including lunch at Osier Station; the Chama High Noon will leave on select Fridays from Chama Station and run to Cumbres Pass and back – a great start to your weekend and nice option for families; and the Antonito Express is another half-day excursion that will leave and return to the Antonito station on select Sundays."
THE RETURN OF LOCOMOTIVE 168 - THE NEW SAN JUAN & NEW MEXICO EXPRESS
After making her debut with a private train on Opening Day, limited tickets to ride behind the brilliantly restored #168 are available for five special excursions, happening monthly, June - October. The #168 will pull 60 lucky passengers in historic rail cars on the San Juan & New Mexico Express, a once-in-a-lifetime, bucket list railroad history adventure unlike anything that has ever been offered in modern railroading history. The San Juan & New Mexico Express will sell out, so reservations are necessary and already filling up.
BOOK YOUR OWN RAILCAR
Also new for the entire 2021 season is the ability for families and friends to book their own rail car. Introduced during the pandemic, private rail car rentals were enthusiastically received and depending on the class of service and number of riders, can offer significant savings. Private cars can be purchased at all levels including standard coach, deluxe cars with tables and individual seats or parlor cars where you travel in the same luxury as the railroad barons of the 1880s.
"We've had an incredible amount of interest in our private rail car option," said Mason. "We have sold more pre-season than what we sold all of last year."
In 2021, there are many new ways to experience the Cumbres & Toltec. Book early and find more information at http://www.cumbrestoltec.com.