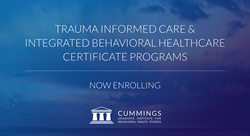 CGI's certificate programs are 100% online, flexible, and take advantage of cutting-edge educational delivery best practices.
PHOENIX (PRWEB) February 01, 2021
The COVID-19 pandemic has imposed significant barriers to healthcare access for patients with severe and persistent mental illness (SPMI) and for those with significant social disparities of health (related to gender, race or ethnicity, income, education, sexual orientation or geography (Denver Health, 2011). Now, more than ever, there is a demand for evidence-based, trauma-informed behavioral healthcare workforce training in improving access to care, quality of care, and experience of care for society's most vulnerable. Responding to the need for healthcare providers to earn skills and knowledge to improve patient outcomes and address growing gaps in healthcare delivery, Cummings Graduate Institute for Behavioral Health Studies is launching new graduate level certificate programs that expand the university's learning framework and create opportunities for students to strengthen their career value.
The new Trauma Informed Care (TIC) certificate provides an in-depth exploration of the impact of trauma on health outcomes. Students will identify clinical and operational practices that may re-traumatize patients and lead to provider burnout, and develop realistic strategies for mitigating or resolving trauma history and compassion fatigue. Included in this certificate is EMDRIA-authorized coursework and supervision leading to the Basic Eye Movement Desensitization and Reprocessing (EMDR) Certificate. Because patients are often unaware of the nature or degree of stresses that are responsible for their illness, this certificate will prepare students to detect and use clues that the patient provides to develop a more complete understanding of the patient's struggles than they are able to perceive for themselves. Students can earn this certificate in as few as 15 months.
The new Integrated Behavioral Healthcare (IBH) certificate focuses on use of evidence-based models of integrated behavioral health delivery for the clinical provider who is working in fast-paced primary care or specialty medical settings. Five specialty areas are offered, each of which reflect the need for specific and advanced training in clinical practice with key populations.

Adult, Gerontology, Military Families & Veterans, and Women's Health specialty tracks provide coursework to prepare students to understand the epidemiology and prevalence of mental health disorders, chronic disease, and comorbidities specific to the population of focus, as well as evidence-based interventions that effectively address these issues to improve overall health and quality of life for these populations in medical settings and communities. The Leadership specialty prepares students to accept leadership roles in healthcare, including management and executive positions responsible for leading intrapreneurial improvement efforts as well as innovation and entrepreneurial challenges that address gaps in healthcare delivery settings. Students completing the IBH certificate in any of the specialty areas will be better prepared as healthcare professionals to deliver integrated clinical care, consult with medical teams as a leader and integration expert, and to launch innovative practice models that offer unique value propositions to the healthcare marketplace. IBH certificates range from 12-18 months to complete.
Doctoral level certificates can be earned as a standalone academic credential, and upon completion students can use their knowledge to assist with positions that promote, advocate and assist for patient accessibility within integrated health services. Certificates also serve as an entry point to the Doctor of Behavioral Health degree program, as they are designed to stack into a higher degree program.
"Due to the COVID-19 pandemic, accessibility of high-quality training and continuing education for healthcare providers is a massive challenge. We are being asked to accomplish more than ever with less funding than ever. Providers today are expected to be informed about the most recent and relevant research in their specialty, but many find the additional demand for clinical services leaves them with little time to find and then review key literature." said Dr. Cara English, DBH, CEO of Cummings Graduate Institute for Behavioral Health Studies. "CGI's certificate programs are 100% online, flexible, and take advantage of cutting-edge educational delivery best practices. The information we've packaged in these certificates will enable entrepreneurial integrated care professionals to gain the knowledge and skills necessary to improve patient care and advance their career within the rapidly evolving healthcare industry."
CGI will welcome their first certificate cohorts in Fall 2021. Admissions applications are currently being accepted. Interested students can apply at https://cgi.edu/apply/.
About CGI
Cummings Graduate Institute of Behavioral Health Studies is a nonprofit, accredited, private institution offering online, post-graduate education and training in the field of integrated behavioral health. To learn more, visit: https://cgi.edu/. Follow on Facebook.