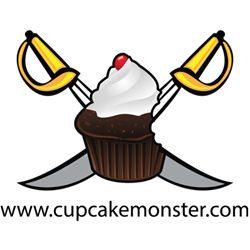 Cupcake Monster and CupcakeMaps.com partnering to bring kids cupcakes and clothing!
Santa Cruz CA (PRWEB) April 08, 2014
Cupcake Monster's Cupcakes For Kids, a national cupcake gift philanthropy, is uniting with the cupcake finder Cupcakemaps.com, to give kids cupcakes, toys, and attire. The clothing and toys will be distributed by means of Cupcakemonster.com and the cupcakes will be conveyed through Cupcakemaps.com, the Yelp for cupcakes and cakes bakery shops.
"The Cupcake Monster's Cupcakes For Kids' mission is to bring grins and affection to children and demonstrate to them that somebody cares!" says Cupcake Monster's President. It's in the spirit that the organization chose to team up with different cupcake pastry bakery shops everywhere throughout the nation to emphatically affect kids in need in the most mindful ways believable, beginning in Santa Cruz, CA.
The Cupcake Monster Cupcake Program will profit the numerous youth, from preschoolers to high schoolers, who are either in monetary distress, crippled, mentally challenged, or medically challenged. These are youngsters from challenging home circumstances and the project will help them discover solace and peace throughout a stressful time in their young lives, help support their efforts in healing, and bring overall happiness, joy and smiles. The program also looks for kids and teens who are doing well in school and desires to support this group, as all kids need support through these challenging times.
"The commitment of Cupcake Monster's Cupcakes For Kids to help give love and backing to children make these blessings conceivable in Santa Cruz and San Francisco", said the Chief Executive Officer of the non-profit. "We are cheerful that local cupcake bakery shops occupants in Santa Cruz and San Francisco CA will go along with us in supporting youngsters and families as they strive for a brighter future. We also look forward to donating in Los Angeles, Corona CA, and San Diego. If you would like to donate to a great cause, please go to Cupcakes for Kids.