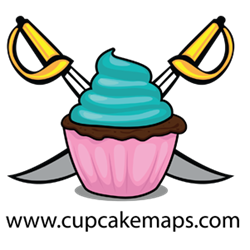 Help your favorite cupcake shop get promoted by the Cupcake Monster! Online reviews help cupcake n cake shops grow their following and gain new customers!
Santa Cruz California (PRWEB) April 20, 2014
CupcakeMaps.com, America's leading cupcakes and cakes directory, recently announced its second annual Cupcake Reviews contest. Cupcake lovers can write reviews of their favorite cupcake and cake bakeries between April 17, 2014 through August 25, 2014.
Winners will receive $1,000 for first place, $100 for second, and $50 for third. In addition to the cash prizes, CupcakeMaps.com's website will add promotions for the best 3 cupcake shops via press releases, Facebook, Twitter, Pinterest, and Google Plus, providing enhanced online visibility from its extensive network of visitors.
This is an easy way for sweets lovers and cupcake fans to win some extra cash! It's also great for bakeries to receive increased local SEO, online presence and visibility to our vast readership.
Recently the company hosted 'List your Favorite cupcake or Cake Shop' contest on Facebook. The winners received $50 cupcake gift cards to the shop of their choice!
CupcakeMaps.com's contest is fully-integrated with social media services, including Twitter and Facebook, which allows reviewers to comment on cupcake shops, share via Twitter, Facebook, and Pinterest. Additionally, bakeries can add the 'Review Us on CupcakeMaps.com Badge to their websites to get more reviews.
Cupcake Mappers may nominate their favorite cupcake shops or cake bakers with cupcake reviews.
Step 1: Go to http://www.cupcakemaps.com.
Step 2: Sign-up and log into your account
Step 3: Search your favorite cupcake or cake shop – add to favorites, then leave your favorite shops reviews, click submit. Scroll down to the bottom of the page of Facebook comments section, leave a comment a post to Facebook.
All winners are drawn from the online reviews and Facebook comments sections together. Winners must have both reviews and Facebook comments to enter and win. The more reviews, Facebook comments and shares on your favorite shops, the more chances to win big.
About CupcakeMaps.com
San Francisco-based CupcakeMaps.com is a leading provider of intelligent health Embraced as an innovative cupcakes / cakes marketing platform, CupcakeMaps.com, is a leading interactive online cupcake directory that connects sweets lovers to local nearby bakeries nationwide. Marketing Your Baked Goods Brand | CupcakeMaps.com delivers top-rate publicity for cupcake bakers, cake makers, wedding cake specialists, pastry chefs, cookie shops that is unparalleled in today's market. The company provides clients with a customizable online profile to boost visitors, an exclusive built-in management system to stay connected to customers, customizable mobile web apps, and profile activity reports to increase marketing growth. Alliance with us also offers an opportunity to donate via the Cupcake Monster's Cupcake for Kids charity and get significant local and national exposure!