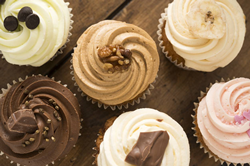 Amazing Clubs 'takes the cake' as our highest-ranked provider of Cupcake Club memberships in 2020.
Overland Park, KS (PRWEB) December 13, 2020
TopConsumerReviews.com recently gave its first-place ranking to Amazing Clubs for their Cupcake Club.
Cupcakes are one of the most popular trends in baked goods, with all of the lusciousness of a big frosted cake in a single-serving package. Today's bakers are going all out with cake flavors and frosting types, decorated to impress and delight. For the most devoted cupcake fans, what better gift could there be than a monthly delivery of the nation's best varieties? Cupcake Clubs are a fun way to sample these treats on a regular basis, making it an especially fantastic gift for anyone that doesn't have a gourmet bakery nearby. These clubs can be set up for deliveries on a monthly, bi-monthly or quarterly basis, for timeframes anywhere from three months to a full year. And, Cupcake Clubs always go the extra mile to make sure that the treats arrive fresh - if not, the company will usually send a new shipment or refund the customer's money right away. For the person with a sweet tooth who seems to already have everything, a Cupcake Club is a surefire way to give them a gift they've never gotten before.
"Over the years, Amazing Clubs has earned many first-place rankings for their gourmet food subscription plans, and their Cupcake Club is our favorite new addition," said Brian Dolezal of TopConsumerReviews.com, LLC. "Every monthly delivery of twelve cupcakes includes four different flavors to savor, like Mocha Nutella, Siesta Key Lime, and many more. We always appreciate that Amazing Clubs gives subscribers the chance to preview each month's selections, just in case there's an issue with a particular flavor or allergen; deliveries can be skipped for any reason. Plus, Amazing Clubs shows a strong commitment to customer satisfaction: they're well-known for their 'They'll Love It!' Guarantee, their fun and informative newsletters that accompany each delivery, and free shipping on every single subscription they offer. Whether you choose a plan for yourself or as a gift for someone's special occasion, you're going to be delighted by this subscription. Amazing Clubs 'takes the cake' as our highest-ranked provider of Cupcake Club memberships in 2020."
To find out more about Amazing Clubs' Cupcake Club and other providers of Cupcake Club memberships, including reviews and comparison rankings, please visit the Cupcake Clubs category of TopConsumerReviews at https://www.topconsumerreviews.com/best-cupcake-clubs/.
About Amazing Clubs
Amazing Clubs was founded in 2003 with the purpose of providing the highest quality gourmet items available to their membership customers. In the years since, their subscription clubs have expanded to include more than three dozen categories, from coffee and tea to candles and dog treats. Based in Stamford, CT and with offices in two other states, Amazing Clubs has been featured in The Wall Street Journal and USA Today and its over two million customers make them the largest Gourmet Gift of the Month Club retailer in the world.
About TopConsumerReviews.com
TopConsumerReviews.com, LLC is a leading provider of reviews and rankings for thousands of consumer products and services. From Cupcake Clubs to Chocolate Stores and Gift Baskets, TopConsumerReviews.com delivers in-depth product evaluations in order to make purchasing decisions easier.