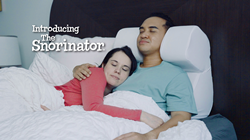 "When you have been snoring your whole life, you get tired of trying the latest fads and devices to stop snoring," said Ecker. "I created The Snorinator with the goals in mind to finally put my snoring to rest and to get back into the bedroom."
LOS ANGELES (PRWEB) February 14, 2023
The Snorinator™, a patented pillow designed to help eliminate snoring, is set to launch on Indiegogo on February 14, 2023, just in time to get back into the good graces of your partner and to get back into the bedroom.
Founder, Lloyd Ecker, struggled with the problem of snoring from a young age. It got so bad his wife even kicked him out of the bedroom. Ecker had tried every remedy, yet nothing seemed to work. Taking matters into his own hands, he created his own product – The Snorinator - based on research conducted by Dr. George Ryerson Fowler in 1888 explaining the benefits of the High Fowler Position.
The Snorinator was created with one simple goal in mind: to help put snoring to rest. This pillow is unlike any other snoring product. It's not another nasal strip or mouthpiece or another uncomfortable snoring solution. Most importantly, it can help you from getting demoted to sleeping on the couch due to the ruckus you cause from snoring at night.
"When you have been snoring your whole life, you get tired of trying the latest fads and devices to stop snoring," said Ecker. "I created The Snorinator with the goals in mind to finally put my snoring to rest and to get back into the bedroom."
The Snorinator includes unique features for a healthy and quiet sleep:

Made of 100% high-density memory foam pillow
The patented "head nest" is a hinged head and shoulder feature that conforms to all height and body shapes that gives proper back and neck support.
66°- upright design promotes oxygen flow and enhances blood circulation.
Available in two sizes: small (recommended for snorers up to 5'6) and large (recommended for snorers over 5'6).
100% organic cotton washable pillowcase with zipper
Pillow has a 10-year lifespan. Pillowcase has a 5-year lifespan.
Now you can be one of the first supporters of The Snorinator. To view and purchase The Snorinator™ Indiegogo campaign launching today, visit http://indiegogo.thesnorinator.com
About The Snorinator™
The Snorinator™, created by Lloyd Ecker, is a research-based, high-density memory foam pillow that helps promote oxygen flow, enhances blood circulation, mitigates back and neck pain, and can help eliminate snoring during periods of sleep and rest. Its ergonomic design is based on a medical discovery made by esteemed American surgeon George Fowler, who found that an upright sleeping position provides better air flow and healthier sleep, especially for those with difficulty breathing. To learn more information about The Snorinator™ visit https://thesnorinator.com/.