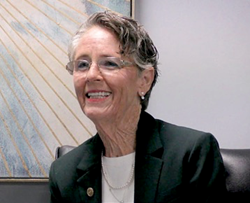 CMS does allow use of position change alarms as part of a fall prevention program as long as it is not the primary or secondary intervention.
ORCHARD PARK, N.Y. (PRWEB) January 20, 2020
Curbell Medical Products, Inc. is pleased to announce the release of a white paper by fall management expert Patricia Quigley, entitled "Position Sensory Alarms – Patient Restraint and Safety Insight".
Patricia Quigley, PhD, MPH, APRN, CRRN, FAAN, FAANP, FARN is both a Rehabilitation Clinical Nurse Specialist and an Adult Health Nurse Practitioner. She serves as patient safety expert for fall and injury reduction to the American Hospital Association, Washington State Hospital Association, and the Alaska State Hospital and Nursing Home Association. In this white paper, she focuses on the importance of fall management, recent guidance from the CMS on the use of audible fall management alarms, and a common misinterpretation of this guidance.
"We felt it important to recognize that providing a safe environment for vulnerable residents in LTC facilities requires a multifaceted plan including the use of technology and tools to reduce the risk of serious injury. To this end, we asked Pat Quigley to provide her input and interpretation around recent CMS Guidance on the use of position alarms" says Don Young, Curbell's Product Manager for fall management products. The white paper is available at https://curbellmedical.com/white-papers/.
Curbell Medical Products, Inc. has been in the healthcare industry since 1960. Today, Curbell Medical is the industry's largest supplier of replacement pillow speaker units. In addition, Curbell Medical offers a full line of hospital and healthcare products for nurse call systems, patient monitoring, installation, and fall management. To learn more, please visit http://www.curbellmedical.com.