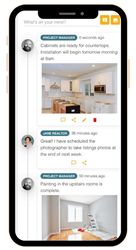 Curbio's "fix now, pay when you sell" is a game changer for Realtors®
POTOMAC, Md. (PRWEB) October 13, 2020
Curbio, the Realtors® fix now, pay-at-closing partner for every listing, today announced their selection by the Maryland Tech Council (MTC) as a finalist for Emerging Technology Company of the Year.
Curbio works exclusively with licensed Realtors® and their clients to fix up homes before they go on the market, so they sell quickly and for the best price, without any payment due until the home is sold.
In addition to no-interest payment terms, Curbio uses its proprietary technology to remove other roadblocks that cause major problems for Realtors® and selling homeowners. One of these is time to market. Curbio completes projects 65% faster than industry average, ensuring there is no delay in the listing process. Curbio's technology also helps Realtors and home sellers track every step of the process. In an industry that hasn't changed much in decades, Curbio customers have complete access to schedules, pictures and video and real-time conversations from any computer or smart phone.
"This year's Industry Awards Celebration nominations were amazing with respect to their accomplishments and the value that they bring their respective industries and clients," said the IAC committee co-chairs, Tony Deflumeri, the Atlantic Region Director of Business Development for BDO and Howard S. Rothman, Vice President, J.P. Morgan Securities. "We are very proud of the hard work and effort that the nominating committee has put into this year's event and we look forward to connecting with the finalists over the next couple of weeks. The number of truly outstanding companies represented among the finalists within each of the award categories speaks to the commitment and dedication they all bring to being the very best."
Curbio takes care of whatever project work is needed, from minor repairs and cleaning to luxury whole-home makeovers. As the only national pre-sale home improvement company, any Realtor® can easily offer Curbio to their clients in 22 major cities across the U.S.
"It's an honor to be selected as a finalist from among so many great technology companies", said Rick Rudman, President and CEO. "Any recognition we receive is due to the talent and work of our amazing employees, who are helping Realtors® and home sellers get better outcomes every day."
About Curbio
Curbio is the leading pre-sale home improvement company, dedicated to helping Realtors® get their client's homes ready for market, with no payment due until the home is sold. Staffed by former realtors, designers, and project managers, we are experts in what matters most when fixing up a home for sale: speed-to-market, effortless process, and updates that matter the most. From simple repairs and cleaning to whole-home refreshes and makeovers, we help ensure every home is ready for market with projects that reduce days on market and increase curb appeal and profit.
About Maryland Tech Council
The Maryland Tech Council (MTC) is a collaborative community that is actively engaged in building strong technology and life science industries by supporting the efforts of our individual members. We are the largest technology and life sciences trade association in the state of Maryland, and we provide value by giving members a forum to learn, share, and connect. MTC brings the region's community together into a single, united organization that empowers our members to achieve their business goals through advocacy, networking and education. The vision for the Maryland Tech Council is to propel Maryland to become the number one innovation economy for life sciences and technology in the country. For more information: mdtechcouncil.com.