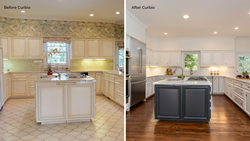 We're excited to introduce our turnkey process to help sellers and agents enjoy a more seamless experience in this booming market.
POTOMAC, Md. (PRWEB) February 05, 2020
Curbio Inc., the leading pre-sale home renovation technology company, today announced its expansion into Minneapolis-St. Paul, MN. Real estate agents in the Twin Cities can now leverage Curbio's pay-at-close model to help their sellers make smart renovations and maximize sale price, without the hassles or financial risks of traditional renovation.
As the first pre-sale renovation company of its kind, Curbio renovates homes in preparation for sale and defers all payment until closing, delivering a fast, easy renovation experience. Unlike the "concierge" options some real estate brokerages now offer for pre-sale home improvements, Curbio handles the renovation itself and is the licensed and insured general contractor on every project it completes.
This service will be particularly beneficial for agents and sellers in Minneapolis-St.Paul, where the strong job market is attracting a steady flow of the largest home-buying demographic: millennials. Minneapolis is the top hub for millennials, a popular who expects updated, move-in ready homes. Unlike many other cities nationwide, housing inventory in the area is on the rise, so investing in buyer-focused renovations is critical for homeowners who want to sell quickly.
"Millennial buyers are flocking to Minneapolis-St. Paul in search of updated, move-in ready homes," said Curbio's VP of Corporate Communications, Rikki Rogers. "Although remodeled homes sell more quickly and generate greater profit, many homeowners opt out of renovations due to the significant time, hassle and financial commitment involved. Likewise, many agents are hesitant to encourage renovations that delay time-to-market and require their oversight. We're excited to introduce our turnkey process to help buyers, sellers and agents enjoy a more seamless experience in this booming market."
With Curbio's unique approach to renovation, real estate agents in Minneapolis-St. Paul will be able to win more listings and referrals in 2020, capitalizing on this booming market. The company specializes in renovations that increase sellers' proceeds, and its technology platform accelerates the entire renovation process—from the initial estimate to the materials acquisition and project management phases. By aligning all stakeholders, Curbio has built a "no catch" business model that offers competitively-priced renovations with no interest and no fees.
Curbio's entry into the Twin Cities comes on the heels of a busy 2019 that included a Series A funding round and expansion into numerous high-profile markets, most recently including Chicago, Boston, Pittsburgh, San Antonio and Austin. For more information on Curbio, visit http://www.curbio.com.
About Curbio
Curbio, the only turnkey pre-sale renovation technology company on the market, is revolutionizing how homes are remodeled and sold. With a data-driven approach and pay-at-close business model, Curbio collaborates with real estate agents to remove traditional barriers to renovation, allowing homeowners to unlock the full profit potential of their property with a seamless experience from start to finish. Founded in 2017, Curbio is currently available in seventeen markets nationwide and plans to be in 25 before the end of 2020. For more information, visit http://www.curbio.com.