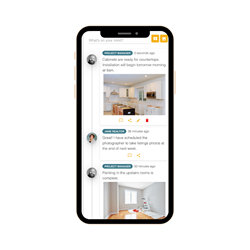 POTOMAC, Md. (PRWEB) April 30, 2020
Curbio Inc., the leading pre-sale renovation company, today announced the launch of its Strategic Alliance Program and the company's first program participant, Coldwell Banker Bain, a leading provider of real estate brokerage services throughout the Pacific Northwest.
Curbio is the first renovation company to exclusively focus on pre-sale home improvements. Founded by software industry veterans, Curbio combines the systems and processes of a technology company with the expertise of a national design-build firm to create a hassle free renovation experience. Unlike the "concierge" options some real estate brokerages offer for pre-sale home improvements, Curbio handles the entire renovation and is the licensed and insured general contractor on every project it completes.
The Strategic Alliance Program allows brokerages to seamlessly integrate Curbio's streamlined pre-sale renovations into their existing resources, providing agents a full-service client solution. Joining forces with Curbio allows Strategic Alliance partners to launch a powerful co-branded program, relieving agents of the stress and inconvenience of arranging home improvements, and instead offering a better experience with faster renovations, fewer days on the market, and a lifetime of referral and repeat customer opportunities.
Additionally, Curbio offers partial marketing spend reimbursement, full access to its project management portal, training tools and resources designed to teach agents how best to utilize this service and a discretionary spend on each project—giving agents an advantage over their competitors.
"At Curbio, we've always known how imperative it is for real estate agents to remain at the center of the home sale," explains Laura Reif, Curbio's VP of Strategic Alliances. "Outdated housing inventory has made presale renovations a must-have when selling a home, now, with the launch of the Strategic Alliance Program, brokerages can better support their agents, and give them the freedom they need to build their own businesses and make their clients happy."
"Coldwell Banker Bain's new partnership with Curbio allows our agents to focus on what they do best: selling homes," says Bill Riss, Chief Executive Officer and Owner of Coldwell Banker Bain. "Their expertise and modern approach to renovations aligns perfectly with our commitment to using contemporary tools that make selling a home enjoyable and successful. With Curbio, we're adding value for our clients throughout the process of the home sale, and providing a new resource to our agents—a win-win for everyone."
The launch of the Strategic Alliance Program indicates significant growth for Curbio, which recently expanded into booming markets like San Francisco, Seattle, and Portland, was named a HousingWire Tech 100, and won the 2019 National Association Realtors® iOi Pitch Battle.
About Curbio Inc.
Curbio is revolutionizing the way homes are remodeled and sold. The company partners with agents to eliminate traditional barriers to renovation and empower any homeowner to maximize the return on their most valuable investment. With full project management and a pay-at-close model, Curbio manages the entire renovation process, creating a better experience for agents and homeowners alike. The company's proprietary technology generates competitive, data-driven pricing and accelerates the renovation process, while its web and mobile app provide transparency and consistent communication throughout. Founded in 2017, the company will be available in 25 cities by the end of 2020. For more information, visit http://www.curbio.com.