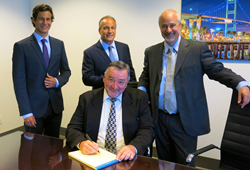 LOS ANGELES (PRWEB) March 02, 2021
Los Angeles Superior Court records show that the traumatic brain injury case filed by Shawn Lindsey by Curd, Galindo & Smith, LLP will proceed to trial in June 2021. The court records show that the court denied Accenture's motion to dismiss the case.
The case arises out of an automobile accident which occurred on January 12, 2018 when the defendant allegedly ran a red light and impacted with the Plaintiff, Shawn Lindsey age 39.
The court records show that Plaintiff, Mr. Lindsey alleges that defendant driver ran a red light and was driving while in the course and scope of his employment with Accenture.
As a result of the impact, court records state that Mr. Lindsey suffered a traumatic brain injury and will require lower back surgery.