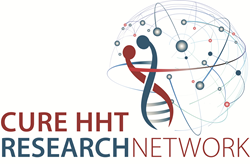 "No one is more committed to finding cures for rare diseases than the patients and families of those affected by these disorders," said Priscilla Chan, Co-Founder & Co-CEO of the Chan Zuckerberg Initiative (CZI).
MONKTON, Md. (PRWEB) February 03, 2020
Cure HHT has received a two-year capacity-building grant from the Chan Zuckerberg Initiative's Rare As One Project to develop a patient-led research network, which will accelerate its mission to find new treatments and a cure for the disease.
"The Rare As One Project provides us with the opportunity to take our work to the next level through greater collaboration of patients with clinicians and scientists," comments Marianne Clancy, Executive Director of Cure HHT. "Since this is a patient-driven network, its decisions will provide greatest impact for patients. Having a Research Network will also allow us to better leverage donations and existing grants, enlist clinical trials, and foster new partnerships with biotech, pharmaceutical and device companies."
HHT (Hereditary Hemorrhagic Telangiectasia), also known as Osler-Weber-Rendu Syndrome, is a genetic disease that affects families for generations. As common as ALS (Lou Gehrig's Disease), HHT affects 1 in 5,000 people — an estimated 1.4 million worldwide. Yet the disease is not well known, and only 10% of those with HHT have been diagnosed. It causes malformed blood vessels in multiple organs of the body and typically begins with nosebleeds during childhood. HHT can result in stroke, brain abscess, anemia and heart failure, but proper diagnosis and treatment can prevent most of these complications.
Cure HHT is the largest HHT advocacy organization and the epicenter of the national and global effort to advocate for HHT patients and families, raise awareness, sponsor critical research and advance treatments. The organization itself is HHT patient-led, from the Executive Director to the Board of Directors, and the two-year collaboration with the Chan Zuckerberg Initiative (CZI) will build on the organization's successful foundation to create a larger, more integrated rare disease community.
A patient-led research network is one whose focus is improving patient quality of life. In collaboration with scientists and physicians, it ensures that the patient voice is heard and that the most pressing needs of patients are addressed. By identifying gaps in current research and prioritizing research needs, it results in accelerating work on the most critical areas.
A key driver of Cure HHT's success as the only international patient-led advocacy group supporting HHT patients has been its constant focus on collaboration between physicians, scientists and patients. This prestigious award from CZI is a fitting recognition of Cure HHT's efforts and will be essential in supporting further outreach efforts: to identify and help undiagnosed patients, to educate physicians who are new to the disease, and to recruit our best scientists to work on a cure.
Founded by Dr. Priscilla Chan and Mark Zuckerberg in 2015, CZI is a new kind of philanthropy that's leveraging technology to help solve some of the world's toughest challenges — from eradicating disease, to improving education, to reforming the criminal justice system. CZI invited patient-led organizations focused on a rare disease to apply for a two-year funding opportunity to develop and launch collaborative research networks in partnership with clinicians and researchers. CZI's Rare As One Project seeks to lift up the work that patient communities are doing to accelerate research and drive progress against rare diseases, which affect approximately 400 million people worldwide. The program provides funding, tools, and capacity-building support and training. Cure HHT is one of 30 organizations selected to participate in the Rare As One Network.
"No one is more committed to finding cures for rare diseases than the patients and families of those affected by these disorders," said Priscilla Chan, Co-Founder & Co-CEO of CZI. "We are proud to support patient-led organizations as they pursue diagnoses, information, and treatment options in partnership with researchers and clinicians." For more information on the Rare As One Project and the Chan Zuckerberg Initiative, visit https://chanzuckerberg.com/science/programs-resources/rareasone/network.
Cure HHT is the only disease advocacy group supporting HHT patients in the United States, and the only one working across international boundaries. It sponsors and produces the biennial International Scientific Research Conference, most recently held in Puerto Rico in 2019, which brings together patients, scientists and physicians and provides an opportunity for cross- fertilization of ideas and research. It also sponsors and produces The International Clinical Guidelines Conference, held most recently in Toronto in 2019, which sets the standards of care for HHT internationally. Cure HHT has helped leverage more than $34 million in research grants since 2004 and has created and monitors 28 HHT Centers of Excellence in North America.
For information in Cure HHT, visit http://www.curehht.org call 410-357-9932 or connect on Twitter or Facebook. For information on the Cure HHT research network, visit http://www.curehhtresearchnetwork.org.