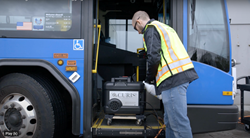 Knowing that a hospital-grade disinfection process is being utilized on our coaches, and that the hydrogen peroxide mist solution reaches virtually everywhere is a huge comfort to our passengers.
OVIEDO, Fla. (PRWEB) October 29, 2020
CURIS System is proud to announce today that is has been awarded the 2020 Innovative Solutions Award for Safety by METRO Magazine for its pulse fogging system that fights SARS-CoV-2 (COVID-19). When the novel coronavirus hit the transportation industry, some companies scrambled to find solutions to help keep drivers safe and routes operational. Traditional cleaning methods often miss areas, and disinfectants that kill 99.9% of germs can still leave up to 1,000 harmful organisms behind on the surface. This was once considered acceptable, but after the pandemic hit that was no longer the case.
Portland, Oregon's TriMet and N.Y. motorcoach operator Hampton Jitney tapped CURIS System's hydrogen peroxide fog to revolutionize their disinfection practices and cleaning protocols, changing expectations of germ safety from attempts to "just clean better" to an achievable, measurable kill of 99.9999% of dangerous germs*. TriMet uses the CURIS device daily on every piece of equipment to make sure each and every day they start out with a fresh, clean and safe piece of equipment.
"We're very pleased that our transportation customers have been recognized for their proactive initiatives to increase the safety and cleanliness of their vehicles with the safest and most effective pulse system on the market today," said Frances Grinstead, CEO of CURIS System. "As the CARES Act for transportation companies is set to expire on November 1st, we have ramped up our production and delivery to make sure any transport company that is making safety a priority has access to the CURIS System."
The Coronavirus Aid, Relief, and Economic Security (CARES) Act provides $25 billion to transit agencies to help to prevent, prepare for and respond to the COVID-19 pandemic. CURIS' sporicidal disinfectant is a hospital-grade, EPA-registered low-level 7% hydrogen peroxide (EPA Reg. No. 93324-1) with a 99.9999% efficacy on the hardest to kill germs* in a tri-part soil load. The hydrogen peroxide decomposes to water and oxygen leaving no harmful residues.
"Knowing that a hospital-grade disinfection process is being utilized on our coaches, and that the hydrogen peroxide mist solution reaches virtually everywhere is a huge comfort to our passengers," said Andrew Lynch, vice president at Hampton Jitney. "Adding the CURIS fogging system as a part of our sanitizing protocols provides us with a gold standard solution for the COVID-19 era."
Using the CURoxide™ Hydrogen Peroxide blend, CURIS is the first portable, hydrogen peroxide-based fogging system capable of disinfecting a room or enclosed area via patented pulse technology, and the most efficacious in protecting passengers against COVID-19 and other infectious disease. CURoxide is the only pulse fogging system included on the EPA's List-N for efficacy against SARS-CoV-2 (COVID-19) and has shown to be 99.9999% effective in killing the most resistant pathogens, while equally as important proving safe to administer and leaving behind no toxic or damaging residues. Staff easily place the portable, suitcase-sized CURIS fogging device into the bus and use an app to control the fogger from a safe location. While the bus quickly fills with germ-killing fog, staff move on to other tasks and use the app to monitor the treatment in progress. When fogging is done, doors are opened for a quick airing out and re-entry. The healthy bus is ready for use and a report of the treatment is saved for future planning and as proof of disinfection.
The CURIS Decontamination System is designed to effectively work in such environments as:

Transportation systems, including buses, airplanes, subways, taxis
Emergency Response Operations, including fire stations, police stations
Universities
Medical facilities, including hospitals, assisted living/long-term care facilities
Laboratory spaces
Sports facilities and gyms
Military facilities
Research facilities
About CURIS® System
Headquartered in Oviedo, Florida, CURIS System provides the most efficacious germ-killing disinfectant solution with no harmful residues available on the market today. Established in 2014, CURIS' innovative and patented hydrogen peroxide fogging system has revolutionized portable, high-level disinfection, making hospital-grade decontamination accessible across multiple markets. Its EPA-registered "No Touch" disinfection system uses pulse hydrogen peroxide fog to kill germs and odors. The system is easy to use, portable (roll-behind or hand carry), eco-friendly, non-corrosive and leaves behind NO harmful residues. The CURIS app can be used for remote activation and cloud-based data storage for optimal tracking, management and reporting. For more information, please visit http://www.curissystem.com
*kills 99.9999% of c.diff in a tri-part soil load.