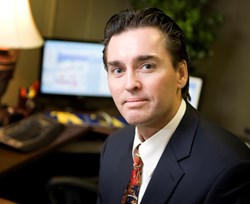 "It was clear that at Currey Ingram every learner is inherently respected on his or her own terms. When this is the case, we give students the greatest opportunity to succeed." - Dr. Jeffrey L. Mitchell
Brentwood, TN (PRWEB) December 27, 2013
Currey Ingram Academy has hired Dr. Jeffrey L. Mitchell as its new head of school, effective July 1, 2014, according to President of the Board of Trust Miller Hogan.
"I want to thank the board of trust, the search committee, and the academy's administrative team for their vital roles in this very important and careful process. They have devoted a great deal of time, effort and thought to reach this important decision," said Mr. Hogan. "We feel confident that Dr. Mitchell will further the Currey Ingram Academy mission and vision with professionalism, integrity and passion – and we are very excited about the future of our great school."
Dr. Mitchell has more than 25 years of experience in education and holds a Ph.D. in Human Learning, Development and Instruction from the University of British Columbia and a master's in Educational Administration. Dr. Mitchell is currently serving as head of Tuscaloosa Academy where some of his notable accomplishments include increasing enrollment by 30% and fundraising by 25% over the past five years, as reported in Dr. Mitchell's application for the position.
Dr. Mitchell's doctoral work focused on special education and learning difference topics, and he also served as the head of Park Tudor School's Lower School in Indianapolis, Indiana, which included an embedded learning differences program. He writes, teaches and speaks publicly on a variety of topics and has taught at the lower school, middle school, high school, undergraduate and graduate levels. He is married with two school-aged sons.
"I knew, as my conversations with the Currey Ingram Search Committee, Board, faculty and parents unfolded, that Currey Ingram Academy was the place for me," Dr. Mitchell said in a letter to the school community. "These conversations were rich and student-centered, and the passion for the students and mission was palpable."
Dr. Mitchell went on to say:
"It was clear that at Currey Ingram every learner is inherently respected on his or her own terms. When this is the case, we give students the greatest opportunity to succeed. When the focus is on ability and capacity, a community of meta-learners is cultivated…learners who understand their own learning propensities and who are advocates of their own learning…perhaps the most powerful learning tool we can provide students."
For the remainder of the school year, Interim Head of School Paul Wenninger will remain at the helm. Mr. Wenninger was hired for a one-year term from July 1, 2013, to June 30, 2014, to allow time for the search process. This is a standard practice in the independent school industry, according to Mr. Wenninger.
Currey Ingram Academy has educated students with learning differences and unique learning styles since 1968. The independent day school was known as Westminster School of Nashville for 34 years, before being renamed Currey Ingram Academy (in honor of lead donors Stephanie Currey Ingram and John Rivers Ingram) and moving to its current 83-acre campus in Brentwood, Tenn., in 2002.
Today, Currey Ingram Academy provides a college-preparatory, personalized education to approximately 320 students in grades K-12. Current students hail from 12 Tennessee counties and approximately 40 ZIP codes. Students who attend the school have average to superior intelligence but might demonstrate a gap between intellectual potential and academic performance in a traditional school setting, often caused by a learning difference such as dyslexia or ADHD.
Currey Ingram uses individualized learning plans, small classes, personalized instruction, speech-language supports (when needed), and evidence-based teaching tools to help support student success, while also offering a full range of arts, athletics and social opportunities.
Since opening its current campus, families have enrolled from 31 states and seven foreign countries, citing the school as a major reason for their move to the Middle Tennessee area. The Currey Ingram Academy campus is located in Brentwood's Beech Creek Valley, about 14 miles from downtown Nashville and eight miles from Cool Springs/Franklin.
For more information about Currey Ingram Academy, please contact Director of Communications Laura Braam at laura.braam(at)curreyingram(dot)org or visit http://www.curreyingram.org or http://www.facebook.com/curreyingram.