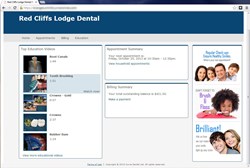 Curve Connex allows our customers to practice outside the walls of their office. Patients don't want to be restricted by business hours and weekends.
Orem, Utah (PRWEB) October 28, 2013
Today Curve Dental, developers of web-based dental software, introduced a new package of patient communication features called Curve Connex, which includes a patient portal for online payments and an automated appointment reminder system that can help the practice reduce missed appointments.
The patient portal is an online extension of the practice wherein patients can make a payment, review current and past statements, view past payments, and see when the next appointment is scheduled for the family or individual. In addition, the portal provides the visiting patient with a library of more than 60 fully automated and professionally narrated patient education videos. Whenever a visiting patient watches a video the date, time, and video title is noted in the patient's record. As a web-based application, Curve Dental is able to securely pass data to the patient portal in real time; synching with a local server is not required.
Curve Connex also includes a fully automated appointment reminder system. Patients can be reminded of upcoming appointments by e-mail or text message. With few limitations, Curve Dental customers determine how often they wish a customer to be reminded, when they are to be reminded, and how they are to be reminded.
"Curve Connex allows our customers to practice outside the walls of their office," said Ian Zipursky, President and COO of Curve Dental. "Consumers use the web because it is much more convenient and flexible, which are hallmark benefits of managing the practice on the cloud rather than with traditional software. More and more of us would rather pay our bills online and learn more about our account at a time and place that fits our lifestyle. We don't want to be restricted by business hours and weekends. Additionally, our customers should experience a reduction in missed appointments with Curve Connex's automated appointment reminder capabilities."
As an accessory to Curve Dental's practice management system, Curve Dental customers have the option to add Curve Connex to their monthly subscription at an additional charge. Curve Dental customers only need to call and ask to add the service to their current subscription.
About Curve Dental, Inc.
Founded in 2004, Curve Dental provides web-based dental software and related services to dental practices within the United States and Canada. The company is privately-held, with offices in Orem, Utah and Calgary, Alberta. The company strives to make dental software less about computers and more about the user experience. Their creative thinking can be seen in the design of their software, that's easy to use and built only for the web. Dentists can call 888-910-4376 or visit http://www.curvedental.com for more information.