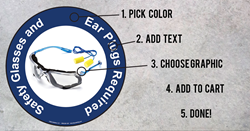 WAKE FOREST, N.C. (PRWEB) October 19, 2015
InSite Solutions, LLC will be an exhibitor at the AME (Association for Manufacturing Excellence) International Conference Oct. 19-23 in Cincinnati, and is set to show exhibitors its enhanced online customization tool for tape and signs.
The largest Lean conference in the world, the AME International Conference in Cincinnati offers world-class resources to those who are seeking to grow or implement leaner processes in the manufacturing industry.
As one of the industry's leading suppliers of floor signs and floor marking tapes used as part of 5S and Lean management initiatives, InSite Solutions, LLC will be available at the conference to offer resources, information and products to businesses that value a visually organized workplace.
The newly enhanced online customization tool enables InSite Solutions' customers to create floor signs and floor tape that are specific to their own needs rather than having to use one-size-fits-all products.
The online tool allows customers to design their own floor signs and floor tape and view them onscreen in real time. Designs appear as if they were imprinted on the sign or tape. When customers are satisfied with their choice of sizes, colors, words, and/or images, the order can be submitted and the custom designed floor marking product will be delivered within a matter of days.
InSite's flagship product, Superior Mark floor tape, is a patented material that has become popular in manufacturing environments. InSite Solutions, LLC floor signs are printed on a proprietary heavy-duty rubber material, as opposed to conventional vinyl overlaminates.
InSite Solutions, LLC (DBA Stop-painting.com) is a leading manufacturer of indoor and outdoor marking tapes and signs. These products are alternatives to painting concrete floors and pavement, and offer a maintenance-friendly solution that is both easy to install and remove. Headquartered in Wake Forest, N.C., InSite Solutions LLC offers thousands of traffic control and industrial safety supplies on its ecommerce website, http://stop-painting.com.