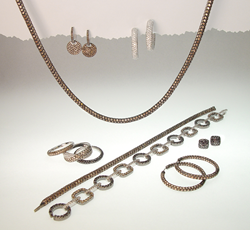 San Francisco, CA (PRWEB) May 23, 2014
Union Street Goldsmith is turning up the glitz and the glamour with new designs just in time for summer. In an effort to maintain its fashion forward appeal, the San Francisco-based jewelry store will now be offering the newest jewelry designs from Dilamani Designs.
Dilamani Designs, a world class name in rubies, sapphires and rare exotic gems, has been designing the best in the gemstone trade since 1983 and Union Street Goldsmith has been a proud carrier of this inspiring and established collection for years. Even more exciting to the Union Street Goldsmith team is that they will be welcoming the sun-lit season by adding Dilamani Designs' latest and greatest designs yet to their growing inventory.
The Dilamani Design collection offers versatility, a wide variety of styles and various price ranges. The collection includes flashy dangle earrings with diamond slabs, necklaces, bracelets, rings, pendants and other pieces of jewelry, and low key pave sapphire or diamond designs for the everyday look.
Union Street Goldsmith customers will find Dilamani's newest multi-color sapphire designs set in sterling silver to be reasonably priced. Also available are many of the collection's newest stunning pieces that include orange sapphire, blue sapphire, pink sapphire, champagne & cognac diamonds, white diamonds, aquamarine and garnets.
Browse the latest, highly anticipated jewelry designs from Dilamani Designs at Union Street Goldsmith at 1909 Union Street, San Francisco CA 94123. Or visit the jewelry store online at http://www.unionstreetgoldsmith.com.
About the Company:
Glenda Queen, with a background in arts and crafts, entered the jewelry business in 1964. After 11 years of making jewelry at McLeans in Sausalito, she and her present partner, Terry Brumbaugh, opened Union Street Goldsmith. Queen chose a neighborhood she hoped would be a comfortable setting for her craftsmen as well as her clients and it worked. Brumbaugh, raised in the jewelry business, later became a gemologist. After an extensive period of travel, he joined with Queen to head up the Union Street Goldsmith sales staff. Brumbaugh has a rare gift in his memory of client's collections, enabling him to design new pieces to fit his clients' special tastes and their collections. An excellent sense of style and fashion endows Brumbaugh with the ability to give valuable guidance to his clients in their jewelry selection, helping each one to create an overall special look within their collection.