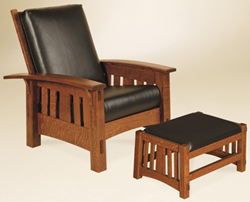 The McCoy Recliner Sofa, like the McCoy Morris Chair, features the classic 'McCoy' design features.
Shipshewana, IN (PRWEB) September 23, 2013
Weaver Furniture Sales has been busy this year, including participating in the Quilt Garden Tour and celebrating seasonal sales, but that hasn't stopped them from debuting the new McCoy chair and sofa furnishings. Featuring a classic Mission Style Furniture design, the McCoy Morris Chair and McCoy Recliner Sofa are built with Weaver's high standard of quality construction.
The McCoy Morris Chair features a standard Mission design. Sturdy wood slats, wood corbels, exposed tenons and straight angles all give this chair a distinct "McCoy" style. Plush seating and a reclining seat back provide comfortable seating and a variety of custom options allow customers to choose the wood type, stain or paint color and fabric option. Even more, Weaver's has a reputation for crafting furniture using traditional woodworking methods, meaning the McCoy Morris Chair is built with early-American authenticity.
Owner LeRoy Weaver notes, "The McCoy Recliner Sofa, like the McCoy Morris Chair, features the classic 'McCoy' design features." While the Mission style (of which the McCoy style is a type) has been popular since its inception in the early 20th century, the McCoy style is a more recent development and features exposed tenons and wood corbels. Plush seating and reclining action create space for relaxing with friends.
Furniture-enthusiasts have traveled to Weaver Furniture Sales over the past two decades in search of fine Amish furniture. The recent debut of the McCoy Morris Chair and McCoy Recliner Sofa add to the Weaver furniture collection options.
About Weaver Furniture Sales:
Weaver Furniture Sales was established in 1989 in Shipshewana, Indiana, and is an Amish, family-owned furniture business that offers a full line of solid wood, Amish Furniture at affordable prices – for both residential and commercial purposes. Weaver Furniture Sales features shaker styles, traditional and mission furniture. As part of their client services, Weaver's provides furniture design consultation services, custom furniture options, furniture quotes, layaway options and various delivery alternatives for residences and businesses in the United States from their quiet country showroom in Shipshewana, Indiana.
LeRoy and Ida Weaver have owned and operated Weaver's for over twenty-four years, beginning with a 1,500 square foot showroom and expanding to over 15,000 square feet today. Previously, they owned and managed LeWana Dairy Farm where they milked cows and raised corn and hay.