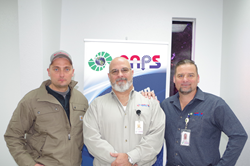 "The promotions of Jamie and Dillon are the result of our training and development initiatives designed to foster a team of best-in-class leaders."
HOUSTON (PRWEB) December 05, 2018
Custom Air Products and Services, Inc, has announced two internal promotions within their Mechanical Field Services Division. Jamie Overaitis promoted to Project Manager, and also, Dillon Allen promoted to General Superintendent, both will be reporting to Brad Chaykoski, General Manager of the division.
Commenting on these promotions, Taylor Norris, CAPS Chief Executive Officer, said, "We are very pleased to announce the promotions of Jamie and Dillon, both of whom have already made strong contributions to the company during their tenures. The promotions of Jamie and Dillon are the result of our training and development initiatives designed to foster a team of best-in-class leaders."
Overaitis joined the company in 2006 and was previously General Superintendent of CAPS Mechanical Field Services Division. In addition, to leading teams that delivered consistent operational excellence, Overaitis, will now lead from a project initiative of leveraging team strengths and oversight of industrial and commercial projects, nationwide.
Allen joined CAPS in 2008 and was previously a Field Supervisor of the MFS Division. Allen has been instrumental in his tenure at CAPS of improving safety, reliability, and high team performance in the field. Central to Allen's new role of General Superintendent will be to convey consistent project principles and work collaboratively with the team, senior personnel, key project partners and stakeholders.
"I congratulate Jamie and Dillon on a well-earned promotion," said Brad Chaykoski, MFS General Manager. "Through their leadership, there have been significant improvements in our company's operations, tools, and infrastructure, and I am confident they will both continue to be an integral part of our company's long-term success."
"Jamie and Dillon have earned these promotions," said John Boger, CAPS President. "Their strong leadership skills and commitment to safety, operational reliability, and customer service have helped make CAPS the top performing HVAC company on many of the measures most important to our customers."
About Custom Air Products & Services
Custom Air Products & Services, Inc. is a full-service HVAC company that specializes in the design, construction, installation, modification, and servicing of industrial and commercial air conditioning equipment. CAPS employees are committed to providing exceptional custom design and quality workmanship at competitive prices.
Custom Air Products & Services currently occupies five (6) modern facilities, totaling 350,000 square feet in size. These buildings include administrative and engineering offices, training facilities, a filter warehouse, and service shops for fabrication, manufacturing, and modifications. CAPS services are provided to customers throughout the United States and Mexico while their manufactured products have been delivered to sites around the world. Currently, CAPS has equipment operating on six (6) continents and in 52 countries.
For more information, contact Custom Air Products at 713.460.9009 or visit them on the web at http://www.customairproducts.com.
If you'd like more information about this topic, please call Susan Archer at 713.460.9009 or email her at susan.archer@customairproducts.com.