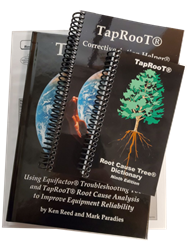 Often, the failure to find and fix the causes of equipment failures leads to additional failures and reliability issues. This is due to poor equipment failure analysis/root cause failure analysis. Equifactor® teaches solving these issues plus saves expensive downtime.
KNOXVILLE, Tenn. (PRWEB) December 17, 2020
System Improvements Inc. is pleased to share the recently remastered 2-Day Equifactor® Equipment Troubleshooting & TapRooT® Root Cause Analysis Course and the new Equifactor® book.
The course comprises the complete package, as students receive the course, the new book, and the workbook.
The Equifactor® Techniques are based on the work of noted equipment reliability expert Heinz Bloch.
In the two-day Equifactor® course, participants learn to use Equifactor® to troubleshoot equipment issues and what is leading to failures. In addition, they learn to use the TapRooT® System to organize the information collected, identify the causal factors of the failure, and find the fixable root causes of the failure. Finally, they learn to develop effective fixes to stop future equipment failures.
Equifactor® tools used to solve problems include:

Equifactor® Troubleshooting Tables – a systematic guide to troubleshooting common equipment problems.
SnapCharT® Diagram – visualize and organize the information you collect to make what happened understandable.
Root Cause Tree® Diagram and Dictionary – find the real, fixable root causes of human performance and equipment issues.
Corrective Action Helper® Module – provides suggested corrective actions to help you develop effective fixes.
Safeguard Analysis – helps define Causal Factors and develop effective corrective actions.
Change Analysis – collect and understand information about problems caused by changes or differences in system, equipment, or people.
The tools can be used by maintenance personnel, equipment reliability specialists, maintenance managers, or investigators who don't have an extensive understanding of equipment engineering.
In addition, the Equifactor® Techniques can be used to develop proactive equipment performance improvement initiatives and equipment troubleshooting procedures.
Now is a great opportunity to get maintenance personnel, equipment operators, and supervisors trained to increase equipment reliability within your organization.
We are excited to share with you the upcoming public Equifactor® courses. Reach out to us if you have any questions. To discuss on-site course arrangements, call us: 865.539.2139.
About System Improvements Inc. – TapRooT®
Founded in 1988, TapRooT® solves hurdles every investigator faces. TapRooT® root cause analysis takes an investigator beyond his or her knowledge to think outside the box. Backed with extensive research in human performance, incident investigation, and root cause analysis, TapRooT® is a global leader in improved investigation effectiveness and productivity, stopping finger-pointing and blame, improving equipment reliability, and fixing operating problems.