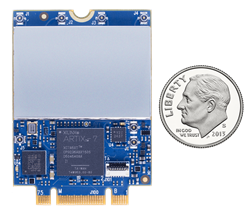 The addition of Sidekiq M.2 support to the SRS LTE software suite offers a powerful, low SWaP solution for tailored, agile 4G solutions
SCHAUMBURG, Ill. (PRWEB) October 19, 2018
Epiq Solutions, an engineering firm that creates innovative RF transceiver modules and complete turnkey wireless sensing solutions, today announced that the commercially-available version of the SRS LTE software suite now includes support for its popular Sidekiq™ M.2 software defined radio (SDR) cards. The combined technologies enable the development of custom LTE processing solutions in super small form factor radios for size-constrained applications, such as small UAS/UAVs.
The flexible and well-supported SRS LTE software suite, developed by Software Radio Systems (SRS), is a high-performance, modular LTE library that supports a broad range of 4G LTE capability, such as eNodeB (basestation), UE (mobile device), and other backend components needed to provide LTE connectivity. These software-based components run on general purpose computing platforms such as laptops and embedded computer modules.
With SRS's support, the Sidekiq M.2 SDR card acts as an RF front end for the SRS LTE software suite. Sidekiq M.2 brings a MIMO-capable, flexible radio transceiver plus PCIe interface to the host computer, all in a form factor measuring 30mm x 42mm x 4mm. Customers who have already deployed Sidekiq M.2 now have the option of adding LTE to their processing application solutions without investing in new hardware.
The flexibility of SRS LTE allows it to scale to run on general purpose processors both small and large, making it ideal for embedded systems. Sidekiq M.2 also supports embedded system deployments by utilizing a standard M.2 card form factor which simplifies final system integration.
"The Sidekiq M.2/SRS LTE integration gives our customers the ability to add LTE networking to their systems and integrate it with their own custom applications using the M.2," stated Aaron Madsen, Chief Technologist at Epiq Solutions. "This provides a new solution for size-constrained networking problems and expands the list of use cases which can be quickly addressed by our low-SWAP hardware."
"The addition of Sidekiq M.2 support to the SRS LTE software suite offers our customers a powerful, low SWaP solution for tailored, agile 4G solutions," noted Paul Sutton, Director at SRS. "The SRS software suite includes complete LTE UE, eNodeB and EPC solutions, as well as custom products such as AirScope, the over-the-air LTE analysis toolbox. Each of these applications can now be brought from the lab to the field using robust, small-form-factor platforms based on Sidekiq M.2."
For additional details about Sidekiq M.2, visit epiqsolutions.com/sidekiq or inquire at sales(at)epiqsolutions.com. For additional details about the commercial version of SRS LTE contact SRS at info(at)softwareradiosystems.com.
About Epiq Solutions
Epiq Solutions is a company committed to developing state-of-the-art software defined radio (SDR) platforms, RF sensing products, and signal processing applications that push the limits of small form factor, integration and low power consumption. These products are used by customers around the world in government, military, and business sectors, for commercial, research and security/defense applications. These applications leverage decades of experience in the commercial wireless industry, enabling unique capabilities that support 2G/3G/4G cellular as well as other commercial wireless communications standards. For more information regarding Epiq Solutions' products and services, please visit epiqsolutions.com.
Contact Information
sales(at)epiqsolutions.com
847.598.0218