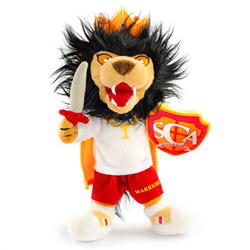 Custom plush toys by design bring a smile to a recipients face.
CITY OF INDUSTRY, Calif. (PRWEB) November 04, 2019
Adorable World®, an innovative toy manufacture makes the design and creation process for completely unique custom plush toys an easy turnkey process with their new user friendly website. By taking over 20 years of plush toy manufacturing experience and building it into a user friendly experience, they have made the unique plush toy creation greatly accessible to all. Character artists, book authors, national brands, marketing professionals, entrepreneurs and charities can quickly bring an idea to reality. The advantage of custom plush toys is that they create a lasting impression that invokes a heart warming emotions for a target audience.
Experienced marketers know that making people happy is the fastest way to create brand recognition and loyalty. Associating a brand with a heart warming moment that makes people smile and evokes positive emotions is the key to brand loyalty. Customers are more likely to choose brands that they associate with positive feelings of happiness. Custom plush toys by design bring a smile to a recipients face. Users are presented with an item they have only interacted with during childhood play or as an adult with their children or children of relatives and friends. This creates an immediate positive association when combined with a brands logo or mascot.
Custom branded promotional giveaway items known as "swag" such as, usb drives, pens, stress balls, t-shirts and water bottles are all common branded items that have become expected at trade shows and events. Data shows that these items are highly sought after at trade shows because who doesn't like free stuff. These items can be customized with logos and imprinted with websites and contact information. But with every brand at a show offering the same useful promo giveaway it can be hard to standout. Do to budgets these items are often of low quality, quickly being discarded after one use or immediately for luggage space on the trip back home. Custom plush giveaways are unexpected, completely unique, low cost and evoke a heart warming smile from recipients. Many perceive the value of stuffed animal plush toys as high and hold on to the item or gift it to a loved one.
The new custom plush design experience starts off with the quotation process in which Adorable word collects all the details that will make this unique project a success. Up next is the prototype phase, in which a hand crafted plush mock-up is built to scale by an expert plush design artist for the clients approval. Once everything is approved manufacturing starts in a high capacity plush toy factory. A custom plush project expert is there for guidance throughout the entire process, from conception to production.
Custom plush toys by Adorable World® are designed and manufactured to the highest quality standards to insure safety requirements are adhered to for children's toys.  Adorable World's factory is maintained at top-notch standards with detailed inspections to guarantee clean, safe, efficient and on-time production, also upholds "Human Rights" in the uttermost importance. As a world leader in plush manufacturing, quality is guaranteed through "Quality System Certificates" of both ISO9002 and ICTI. To learn more about Adorable World® plush toys visit adorableworld.com or call us at: 1-626-363-1188.