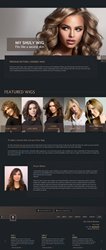 We truly value and care about our customers and are so proud to receive this award from Find Local Contractors, says Shuly, owner of Shuly Wigs
BROOKLYN, N.Y. (PRWEB) April 30, 2021
As a result of the excellent ratings, testimonials and recommendations that Shuly Wigs has received, Find Local Contractors has named them a 2021 Top Client Rated New York Wig provider. Shuly Wigs is located at 4016 18th Ave, Brooklyn, NY, and is the premier supplier of natural-looking, luxurious human hair wigs. Find Local Contractors helps consumers find local contractors that they can depend on for top-quality work, affordable rates and great customer service. Find Local Contractors is a trusted directory that provides quick access to outside review sources where actual customers have left comments and rankings regarding the listed contractor.
Customers at Shuly Wigs find comfort, expert craftsmanship and of course, ultimate style with every custom, high-end wig. Shuly Wigs is a boutique wig store where no two wigs are alike. From short sassy cuts to long flowing locks and everything in between, you will find the best of everything in a Shuly wig. Each wig is customized to fit perfectly and comfortably. Using non-processed, virgin European and South American hair, Shuly Wigs provides a wide selection of styles to choose from, and they help select the wig that suits customers best to bring out natural beauty. Only top-quality dyes highlights and custom colors are used to make the wig look extremely natural. Shuly Wigs provides high-end wigs to all types of clients ranging from people who want a different style to cancer patients and women suffering from hair loss. Their full-service care and styling means ultimate versatility, and salon stylists also provide wig coloring, cutting, styling options and wig repair. All work is done on-site and service is provided for all brands sold .
"We truly value and care about our customers and are so proud to receive this award from Find Local Contractors," says Shuly, owner of Shuly Wigs
More about Shuly Wigs:
Shuly New York, a custom wig company, was founded on the basis of empowering women to greater heights with confidence and a product they could trust. Shuly New York has a quality and track record that profoundly speaks for itself and is driven by the passionate personality of its visionary founder. Their wigs are made from 100% natural hair, comes with a one-year limited warranty, and most importantly with proper upkeep, they can last a minimum of 3-8 years.
To schedule a consultation, or for more information on Shuly Wigs, please call 718-851-7778 or visit http://www.shulywigs.com.