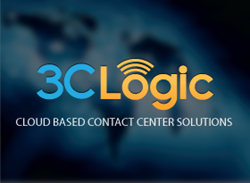 76% of businesses willingly admit that they do not have a single customer view.
Rockville, MD (PRWEB) August 04, 2015
3CLogic, an award winning provider of cloud contact center solutions, will be joining forces with software advisory firm, DataSync, and Marketing Automation provider, Act-On Software, in a collaborative webinar to discuss the value of integrating Contact Center, CRM, marketing automation platforms to more effectively map the customer journey.
WHO: 3CLogic, a provider of Cloud Contact Center solutions, in collaboration with Act-On, provider of Marketing Automation software, and DataSync, software consulting firm specializing in CRM implementation. Presenters: 3CLogic VP of Sales, Marketing and Business Development; DataSync President and CTO; Act-On Senior Product Marketing Manager
WHAT: By 2020, customer service is expected to overtake price and product as a brand's key differentiator. And according to Gartner, 89% of businesses plan to compete primarily on the basis of customer experience by next year. But to deliver on customer needs and expectations in 2015, businesses need to do more than simply market, sell, and service their product offerings—they need to map the customer journey from start to finish to gain a holistic view of every customer. The problem? 76% of businesses willingly admit that they do not have a single customer view.
This webinar will explore the challenges businesses face in gaining a holisitc view of their customers and ways they can more effectively analyze the customer journey to enhance the overall customer experience. Specifically:

The current state of affairs as it relates to understanding the customer lifecycle, and the solutions (Marketing Automation, CRM, Telephony) businesses are using to facilitate sales, marketing, and service initiatives.
The benefits of using these SaaS solutions, and where each falls short as it relates to gaining a holistic view of the customer.
How to effectively leverage SaaS solutions to more effectively map the customer journey.
WHEN: This On-Demand Webinar will become available Tuesday, August 18th, 2015.
WHO SHOULD ATTEND: CEOs, CIOs, Marketing Directors, Sales Executives, Call Center Managers, Lead Generation Professionals
The webinar is open to any organization interested in enhancing their customers' overall experience by providing representatives the information and tools they need to understand the customer and their journey to have more informed and proactive interactions. Register for the webinar here.
Learn more about 3CLogic, Act-On, and DataSync.
About 3CLogic
3CLogic is a leading provider of multichannel cloud contact center software designed for today's enterprise businesses. A true cloud solution, hosted on AWS, it offers seamless integration with other cloud-based solutions, including CRM, Ticketing, WFO and WFM, to allow any organization to migrate from premise-based or cloud platforms without disrupting existing business workflows. Built on a unique distributed infrastructure, it avoids the traditional pitfalls of current solutions while providing market-leading security, scalability, system flexibility, and reliability. Built to enhance sales performance, customer experience, and overall rep productivity, 3CLogic provides a powerful communication framework to help complement any business initiatives. For more information, please visit http://www.3clogic.com.
About DataSync
With over 10 years of business software experience, DataSync has rapidly grown to be a SugarCRM Elite Platinum Partner and a leader in the integration of marketing and back office software with CRM systems to provide unique customer lifecycle solutions. Privately held by over 50 shareholders, the company provides software design and consulting services to customers located around the World. The company is headquartered in Sioux Falls, South Dakota, a metro area with a population of approximately 250,000 in southeastern South Dakota highly rated as one of the best places in the United States to live and grow a business.
About Act-On Software
Act-On Software provides the leading sales and marketing engagement platform for the 21st century business. Simple to operate but powerful in its results, elegant in its user experience and comprehensive in its functionality, Act-On's cloud solution powers over 3,000 companies in their engagement efforts across all stages of the customer lifecycle - attract, capture, nurture, convert, and expand. The platform's out-of-the-box integrations with popular standalone tools are further complemented by Act-On Anywhere™, a business productivity application that extends the use of marketing automation across web-based environments. Headquartered in Beaverton, OR with eight additional offices across three continents, Act-On has been recognized for its superior product and rapid business growth by Deloitte, Forbes, and Inc. Magazine. For more information, visit http://www.act-on.com.