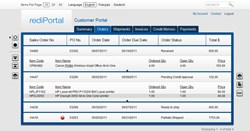 We were extremely impressed by the professionalism and flexibility of the rediPortal team who implemented the solution on time and on budget.
– John Savidge, IT Manager, Cole Fabrics
Irvine, CA (PRWEB) July 31, 2013
rediPortal, a self service customer portal solution for SAP Business One, brings enhanced features to its product as well as a new look to its website. Two new rediPortal features include Inventory Availability look-up and a Sales Rep Portal view function to provide up-to-date information.
"The two new rediPortal features will provide powerful tools for SAP Business One users," said Suda Sampath, Vice President of IndyDutch Solutions.
Now when a customer calls asking for inventory availability, SAP Business One users can now provide customers with the ability to view this information online 24/7. Customers can see what items are in stock and when additional stock is expected.
In addition, sales representatives have access to how their customers are doing and whether they are ordering and much more. The Sales Rep portal view gives the sales rep the ability to view all transactional information about their customers.
rediPortal enables you to provide your customers the convenience of 24/7 online access to their account information through a secure browser based login. Once implemented, rediPortal will certainly save time for your customer service department while increasing efficiency and improving overall customer satisfaction.
IndyDutch Solutions improves and expedites small business processes by specializing in software consulting and software development for SAP Business One. The IndyDutch Solutions team has been working with SAP Business One since the time SAP Business One was launched. IndyDutch specializes in SAP Business One implementation and optimization, offers several SAP Business One Add-on solutions, and is well-known for their honesty, integrity, and commitment to delivering value in the SAP Business One customer community. To learn more about IndyDutch, visit http://www.indydutch.com or call +1 (800) 385 5814
SAP Business One is a trademark of SAP AG. IndyDutch products are not endorsed by or affiliated with SAP AG.