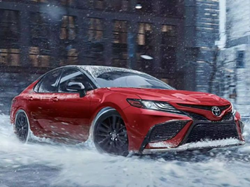 VACAVILLE, Calif. (PRWEB) November 09, 2022
Ammaar's Toyota Vacaville, an automotive dealership in Vacaville, California, adds the 2023 Toyota Camry to their inventory. This midsize family sedan offers comfort, plentiful standard safety tech and stylish looks, all at a reasonable price tag. The current generation 2023 Toyota Camry is now available for purchase at Ammaar's Toyota Vacaville dealership.
Starting at $25,945, the 2023 Toyota Camry is available in thirteen trim levels. Under the hood of the 2023 Toyota Camry rests a powerful 2.5-L four-cylinder engine that makes an impressive 203 hp of engine power. Thanks to its 8-speed automatic transmission system, the vehicle performs admirably on the road and is agile in handling and driving manners. EPA-estimated fuel economy rating of the 2023 Toyota Camry reads 28/39 MPG for city/highway, respectively.
Interested customers who want to explore the 2023 Toyota Camry can check out the sedan up close through the dealership's website. They can also visit the dealership in person and test-drive the sedan to analyze its performance in real-time. Customers are encouraged to contact the dealership's sales team to learn about this vehicle in detail.
Prospective buyers can dial 707-446-7000 to learn more about the vehicle at Ammaar's Toyota Vacaville. Drivers can also visit the dealership at 500 Orange Dr. Vacaville, CA 95687, for further information.