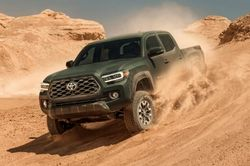 COLUMBIA, S.C. (PRWEB) February 10, 2023
Drivers needing good condition and durable used pickup trucks for under $30,000 around the Columbia area in South Carolina can now choose from a selection of vehicles. They can visit the Bluff Road Auto Sales dealership and explore the range of pickup trucks available in its inventory. The dealership carries models of famous brands known for their vehicles' quality.
Interested buyers can directly visit the dealership if they reside close to its location. This way, they can take their time in choosing the pre-owned pickup truck they need. They can test-drive vehicles before making a final purchase decision. This allows them to analyze how the vehicles perform on the road. It also gives them a chance to test out the features available in the vehicles. Buyers residing far can always log onto the dealership website and explore. The dealership currently carries the following used trucks for under $30,000: Chevy Silverado, Nissan Frontier, Toyota Tundra and Ford F-150.
Customers are encouraged to visit the bluffusedcarscolumbiasc.com website to learn about the vehicle services and used models available at the Bluff Road Auto Sales dealership. For more details on the pre-owned vehicles, they can visit the dealership at 1400 Bluff Road, Columbia, SC 29201 or contact them by phone at 833-939-1508.