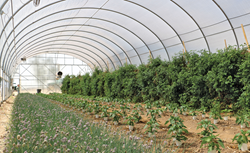 SOUTH WINDSOR, Conn. (PRWEB) November 20, 2018
Skip out on the long lines and crowded shopping centers this weekend with Growers Supply's Black Friday and Cyber Monday Sales.
To kick off the holiday season, customers can take advantage of the Black Friday Sale starting Wednesday, November 22nd through Friday, November 24th. The sale offers customers tiered savings, which include $10 off orders of $75 or more, $25 off orders of $150 or more, $50 off orders of $275 or more and $100 or orders of $500 or more. To participate in the savings, customers can use the code GW1870 at http://www.GrowersSupply.com.
Going back to work on Monday will be tough, but Growers Supply is helping to ease the transition with their Cyber Monday Sale. To find out more about this sale, like Growers Supply on Facebook and the company will announce details over the weekend.
Since 1979 Growers Supply has been helping growers manage their professional or hobby greenhouses and grow operations. With over 30,000 products, Growers Supply has solutions for growers who produce on any scale, and their National Account Managers are available to help any customer find the product or solution that best meets their needs.
For more information, visit http://www.GrowersSupply.com or call 800.476.9715 to speak with one of Growers Supply's National Account Managers.