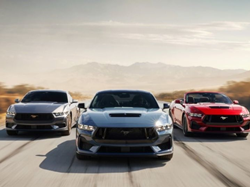 SNOHOMISH, Wash. (PRWEB) December 16, 2022
Interested customers in or around the Snohomish area can stop by Bickford Motors to take the 2023 Ford Mustang for a spin. This vehicle has a six-speed manual transmission and an inline-four EcoBoost engine with 310 horsepower as standard equipment. While the pony car can go as crazy as the 760-hp Shelby GT500, the Mustang GT with the 450-hp V-8 engine is a more practical option for many shoppers. The 10-speed automatic or manual transmissions are compatible with the four-cylinder and V-8 engines. Whether purchased as a hard-shell coupe or rag-top convertible, every Mustang has a rear-wheel drive system.
In the world of automobiles, the Mustang is not a brand-new moniker. People far away from industry may have overheard casual talk about it. The enormous power produced by this car's four-cylinder and V8 engines makes it a great pick for 2022. This well-liked car is still one of the most in-demand among a sea of cutting-edge automobiles, with an MSRP of $27,205 and five basic trim levels to choose from EcoBoost, EcoBoost Premium, GT, GT Premium, and Mach 1.
Bickford Motors offers various promotional discounts on Ford services and components. On the dealership's website https://www.bickford.net/, interested parties can review these offers. The dealership offers a large selection of brand-new Ford models available for purchase in addition to Ford maintenance and repair services. Additionally, customers can schedule a test drive of their preferred Ford car online.
Call Bickford Motors at 866-489-3673 if you're interested in buying a new Ford or ordering parts. Customers can also get more help by going to the Snohomish, Washington dealership at 3100 Bickford Avenue.