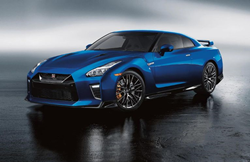 WAUKESHA, Wis. (PRWEB) February 15, 2023
Performance-oriented vehicles deliver quicker acceleration than most other vehicles in the market. These vehicles are also favored by drivers who spend time on the racetrack often. One of the most popular sports cars renowned globally is the 2023 Nissan GTR. The 2023 Nissan GTR is available at Boucher Nissan of Waukesha, a dealership located in Waukesha, WI.
The 2023 Nissan GTR is equipped with a twin-turbocharged 3.8-liter V6 engine. It produces a competitive 565 horsepower and 467 pound-feet of torque channeled to a six-speed dual-clutch automatic transmission. The sports car comes with a full-time all-wheel-drive system to deliver optimum on-road performance. Inside, the 2023 Nissan GTR provides a race-inspired cockpit with a seating capacity for four people. In addition, the sportscar also features an advanced suite of safety and driver-assistance features.
Individuals who are interested in purchasing the 2023 Nissan GTR can visit the official website of Boucher Nissan of Waukesha. The dealership hosts an extensive inventory of the latest Nissan models in the US market. Customers who require vehicle financing or a trade-in deal to purchase the 2023 Nissan GTR can visit the dealership's financing page.
The Boucher Nissan of Waukesha dealership can be contacted by dialing 262-254-4014 or visiting 1451 E, Moreland Boulevard in Waukesha, WI.