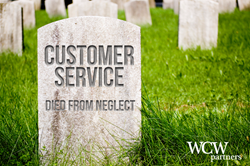 Consumer discontent is a sleeping giant. It will only take so much, and its wrath can go viral today in minutes.
Stillwater, MN (PRWEB) August 19, 2014
In his recent blog post, WCW Partners CEO and Co-Founder Rick Conlow discusses what he calls "The Death of Customer Service." Conlow believes customer service has been ailing for some time now. "Can you recall a recent experience where the customer service was really bad? Sure you can," he says. In contrast, he believes that the exceptional experiences with outstanding customer service are few and far between.
In his post, Conlow explains the top four reasons why customer service is essentially dead:
1. A Lack of Civility – People have accepted poor manners and have become used to rude behavior. "The general perception by most adults is that people are less civil than in days past," Conlow says.
2. Employees Treated as Commodities – Conlow states, "Many companies treat employees as commodities, not as valuable partners. Most employees don't get the training and support they need to deliver superior customer service. Company leaders have little loyalty to their employees, and in return employees have little loyalty to them and their customers."
3. Public Accustomed to Poor Service – The public's expectations have become lower as mediocre service has become rampant. Conlow points out that many big companies with poor customer service ratings still thrive.
4. An Increase in Technology – The increase in technology today means a decrease in personal interaction, Conlow explains. "Service technology loses the human touch - the empathy and compassion that is vital to creating loyal customer relationships," he says.
Conlow warns that "consumer discontent is a sleeping giant. It will only take so much, and its wrath can go viral today in minutes." He states that customer service is becoming more important than ever, and companies need to put more effort into improving it. He suggests that companies put their customer service on "life support" and "invest heavily in bringing it back to health."
To read the full blog post on The Death of Customer Service, visit http://blog.wcwpartners.com/death-customer-service/. To view more articles and company news, please visit WCW Partners on LinkedIn at: https://www.linkedin.com/company/wcw-partners.
About the Author, Rick Conlow
Rick Conlow is the CEO/Co-Founder of WCW Partners, a global management consulting and training firm. Rick has helped organizations increase sales 218%, improve repeat-and-referral business by 20%, increase customer retention to 99%, reduce complaints by 60% and achieve 34 quality awards.
About WCW Partners
Co-Founders Rick Conlow/CEO and Doug Watsabaugh/COO of WCW Partners have more than 50 years of combined business, training and leadership experience. Their company partners with organizations to increase sales and customer retention, while simultaneously improving employee loyalty, engagement, and productivity. Clients include 3M, Meijer, Rite Aid, Canadian Linen, AmeriPride, Honeywell, Entergy, Nash Finch, Northern Power, Pepsi and others.
For more information, contact 888-313-0514 or visit http://www.wcwpartners.com.
# # #