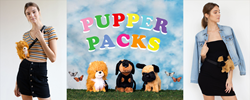 MINNEAPOLIS (PRWEB) November 01, 2018
Ragstock, the Minneapolis-based retailer of new and vintage clothing, has announced its latest product: Pupper Packs, a line of fanny packs that resemble small dogs.
The initial release features three breeds: a wrinkly-faced pug, a poofy Pomeranian, and an appropriately long dachshund.
"We wanted to design a product that would tap into the cultural zeitgeist," says Zach Nagle, eCommerce director at Ragstock. "Millennials are delaying parenthood, adopting dogs, and creating Instagram accounts for them. Fanny packs have made a huge comeback and are part of a larger resurgence of '90s fashion trends. It seems like the perfect time to unleash dog-shaped fanny packs into the world".
For those not quite ready for the responsibilities of a real dog, a Pupper Pack may be the perfect fit. "They are low maintenance and very cute. It's the best of both worlds" said Nagle. While the cuteness factor is undeniable, Pupper Packs are functional, too. They'll hold your keys and sunglasses—a feat that only the most well-trained dogs could ever accomplish.