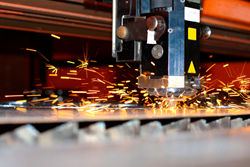 Laser cut signs and panelling are beautiful and intricate pieces with crisp lines and flawless construction.
Everett, WA (PRWEB) September 30, 2014
Cutting Edge Laser's latest article reminds consumers that their skills with laser cutting, waterjet cutting, and welding aren't just useful in creating parts for jumbo jets or designer desks. They can also accomplish intricate and artistic tasks, such as complex panelling, intricate signwork, and more.
"But laser cutting isn't all massive machinery and utilitarian creations—laser cutting can also produce delicate, beautiful pieces that are artistic as well as useful. One of our favorite creations that allows us to expand our artistic skills, is that of laser cut signs and laser engraving," says Cutting Edge Laser.
The article goes on to discuss the various reasons that laser cutting is uniquely and especially suited to handling even the minute details of a design flawlessly.
They often are able to help design and then create artistic signs using a variety of materials. The most common materials used for signs are metals, woods, and hard plastics.
They outline the benefits of the various materials as well, for consumers considering a signage project for their business—or even just for high quality and unique home decor.
To learn more about Cutting Edge Laser's unique laser cutting services in Seattle and the Pacific Northwest, visit their website.
"If you are considering having an engraving, etching, or a new sign made for your business or even your home, contact our team of laser cutting professionals. We would love to work with you to create a unique design that will accentuate and enhance your space and business. We offer free quotes to our clients to help you create a budget for your project," says Cutting Edge Laser.
About Cutting Edge Laser
CEL Manufacturing was founded in 1995 as Cutting Edge Laser, Inc. with the objective of servicing Puget Sound's laser cutting and sheet metal fabrication requirements. From early on there was a commitment to equip the shop floor with the latest technology in metal processing equipment. Today, their services have expanded from laser cutting to sheet metal fabrication, machining, forming, welding, rapid prototyping, and design and engineer.
Cutting Edge Laser Inc
18620 141st Ave NE # A, Woodinville, WA ‎
http://www.celmfg.com
(800) 235-2595 ‎