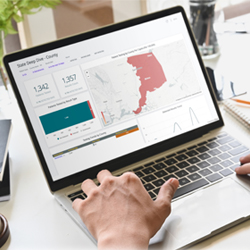 CV19Dashboard.org meets the critical need for public health officials and healthcare institutions to gain detailed insight into current lab testing trends.
INDIANAPOLIS (PRWEB) April 03, 2020
Bioinformatics leader hc1 has launched a dynamic dashboard that displays lab testing insights to support leaders on the front lines who are actively working to mitigate the spread of COVID-19. Anonymized trending data from a coalition of more than 20,000 lab testing locations supports the dashboard's visualizations of COVID-19 testing rates, positive and negative test results, and key demographic filters like age and gender down to the county and neighborhood (Public Use Microdata Area) level.
"Sonora Quest Laboratories is committed to doing everything we can to address this public health crisis. Through the hc1-led coalition, we are joining labs across the nation to provide insights that can support our respective communities," said David Dexter, CEO of Sonora Quest Laboratories. "CV19Dashboard.org meets the critical need for public health officials and healthcare institutions to gain detailed insight into current lab testing trends."
The CV19 Lab Testing Dashboard is available as a free public health service to individuals directly involved with implementing policies and delivering care to mitigate the spread of COVID-19. Included are public health officials, government agencies and healthcare providers. Qualified individuals need only request access at https://cv19dashboard.org.
"Monitoring the rise in percent positivity of the COVID-19 tests and the acceleration of percent positive in local data tells us where scarce resources must be deployed before the wave of COVID-19 patients hit our hospitals' ER's. Access to consistent data at a local level is essential," said Richard Olds, MD, MCAP, International Expert - Infectious Diseases, Former U.S. Medical School Dean. "This analytical tool will give healthcare organizations, public health, and government leaders advance notice by 5 to 21 days."
Already noted for its life-saving potential, the CV19 Lab Testing Dashboard project was recognized as a Spotlight Project in Datavant's Pandemic Response Hackathon on April 1. The virtual event, aimed at better understanding and mitigating the spread of COVID-19 and future pandemics, was organized by Datavant and partners including the U.S. Office of the National Coordinator for Health IT (ONC), Amazon Web Services (AWS) and Snowflake.
hc1 and its partners are mounting this COVID-19 response alongside AWS, Google, Microsoft, Salesforce, HCA Healthcare, Intermountain Healthcare and others as a member of the COVID-19 Healthcare Coalition. Formed by private sector organizations, the healthcare coalition's mission is to help save lives by providing real-time insights to aid healthcare delivery and help protect U.S. populations. Each healthcare coalition member is bringing its unique assets, sharing resources and plans, and working together to support those on the front lines in responding to COVID-19.
"Labs are working around the clock to support surging COVID-19 testing demands in regional hot-spots, while public health professionals need a unified national view that spans thousands of locations and organizations," said Brad Bostic, hc1 Chairman and CEO. "hc1's specialized focus on lab bioinformatics puts us in a unique position to deliver up-to-date national insight into the spread of COVID-19. The hc1 Platform integrates and organizes the largest repository of live laboratory orders and results in the United States, so when the new coronavirus hit, we saw the development of this dashboard as a critical contribution we needed to make in support of public health."
All trends in the dashboard are based on de-identified, aggregated data from thousands of testing sites in accordance with the Health Insurance Portability and Accountability Act (HIPAA) privacy requirements. Accredited COVID-19 testing labs are encouraged to learn more and support this important public health initiative by visiting https://cv19dashboard.org/join.html.
About hc1®
Founded to improve lives with high-value care, hc1 has emerged as the leader in bioinformatics for precision testing and prescribing. The cloud-based hc1 High-Value Care Platform® organizes volumes of live data, including lab results, genomics, and medications, to deliver solutions that ensure that the right patient gets the right test and the right prescription. Today, the hc1 Platform powers solutions that optimize diagnostic testing and prescribing for millions of patients nationally. To learn more about hc1's proven approach to personalizing care while eliminating waste for thousands of health systems, diagnostic laboratories, and health plans, visit http://www.hc1.com and follow us on Twitter, Facebook, and LinkedIn.