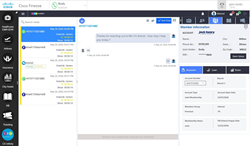 BETHESDA, Md. (PRWEB) June 11, 2020
According to a study, 54% of members prefer to engage over social media. It is high-time when credit unions should switch to additional digital channels. This end-to-end solution has all digital channels – Webchat, Facebook, Twitter, WhatsApp, Text Message (SMS), Email, and integration with Voice – over a unified interface for an agent to engage with members without switching applications.
CXInfinity is a Turnkey solution for Credit Union contact centers designed to make agents more responsive across platforms to attend to members' queries instantly with features such as:

Engage immediately with members over digital channels and voice without toggling through applications.
Offer personalized conversation every time with a 360-degree view of member account & contact information.
Access member information on CXI and screen pop for detailed account information.
Offer quick resolution with the smart routing of conversations to the right skilled agent or concerned department.
Improve and optimize call center performance with real-time and historical reporting.
Resolve faster with built-in productivity tools such as knowledge base and case management.
Increase productivity with a dedicated and unified workspace for agents and supervisors
Keep your data and call system secured with secured installation over on-premise and cloud.
Amit Gandhi, CEO CXInfinity and NovelVox says, "Expectations of members are ever-evolving that affects their loyalty for a business. Where 9 out of 10 customers demand omnichannel engagements, a credit union with the only phone or email service is likely to lose largely on its member base and business. CXInfinity empowers agents with total control over a multichannel conversation that will drive the highest level member engagement and enhances loyalty. Seamless integration with core systems and 3rd party application ensures that the agent delivers the right information at the right time without switching screen or losing the conversation context across channels."
With CXInfinity engage, interact, and accept members' multiple queries such as opening an account, apply for a mortgage, block a card or pay the installment and more on the channel of their choice.
About CXInfinity
CXInfinity is the business messaging and customer engagement platform to connect with the customer at the right time over the right channel. It's an integrated and optimized solution that speaks of trust and technology carried for 11 years with NovelVox in the contact center industry. With 98.7% of customer retention and over 70 3rd party integration, NovelVox has launched CXInfinity that offers infinite scalable and flexible solutions for instant customer support, sales, and marketing over a unified console allowing a switch between channels but not screen/applications. CXInfinity solution caters to businesses of all sizes, including Enterprises and verticals.