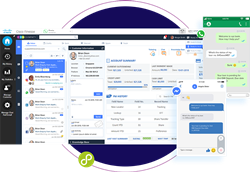 BETHESDA, Md. (PRWEB) October 20, 2020
Over 80% of customers expect a seamless transition and consistent experience across all channels. People aren't willing to visit banks for everything, wait in queues, or take out time from other tasks for bank work. This is where banks need to progress in digitizing the CX with omnichannel engagement continuously. CXInfinity empowers banks with omnichannel contact center solutions that will maximize sales and building long-term relationships with customers. Digitally active banks can significantly cut costs by handling even complex transactions and loans over digital channels.
CXInfinity empowers banks to win customer trust with real-time digital engagement across channels without losing conversation context. It strengthens the bond between customers and banks with a tailored solution. The company offers a dedicated agent workspace that provides an integrated view of conversation across channels along with customer interaction history and other details. The telephony integration unifies agent experience. CXInfinity is focused on maintaining a balance between technology and human touch and thus offering an AI-driven solution that values customers and their time. It provides a scalable and integrated self-help Knowledge Base, smart chatbots to handle level 1 queries, and intelligent conversation routing to be there for customers. Further, the company highlights the need for consistent performance to sustain customer's trust with the bank. It's Case Management tool for ticket resolution is an integrated system that can do wonders for banks and its customers.
Amit Gandhi, CEO CXInfinity, says, "CXInfinity is a digital engagement platform that intends to redefine customer interaction. With an integrated omnichannel solution, we wish to transform the banking customer experience. Financial investment involves reliability and proper guidance and the anxiety of customers over a digital platform is like a cherry on the cake. To eliminate any roadblocks and have seamless interaction along with video chat assistance CXInfinity has designed a solution for the banking industry. From opening a bank account to online transactions to preapproval of loans, we empower banks to carry out every task seamlessly over digital channels. Now agents at banks can seamlessly switch between channels, conversations, and assistance to customers without switching screens. Empowering agents means to empower customers.
About CXInfinity
CXInfinity is the business messaging and customer engagement platform to connect with the customer at the right time over the right channel. It's an integrated and optimized solution that speaks of trust and technology carried for 12 years with NovelVox in the contact center industry. With 98.7% of customer retention and over 70 3rd party integration, NovelVox has launched CXInfinity that offers infinite scalable and flexible solutions for instant customer support, sales, and marketing over a unified console allowing a switch between channels but not screen/applications. CXInfinity solution caters to businesses of all sizes, including Enterprises and verticals.