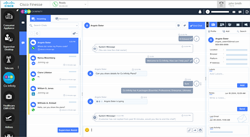 BETHESDA, Md. (PRWEB) July 29, 2020
Digital customer service creates highly engaged customers who are likely to buy 90% more frequently and spend 60% more on every purchase. There's more to it. Digital customer service helps in creating an emotional connection with customers, removing chances of customer disloyalty. It allows real-time engagement with proactive assistance across channels—higher resolution with instant access to knowledge base and Case Management tools.
According to a study, companies with digital transformation have already started gaining profit of more than 26% than their competitors. Whereas 59% of businesses are worried, it might be too late for them. So, to help enterprises to start delivering digital customer service, CXInfintiy offers a new digital omnichannel customer engagement solution.
CXInfinity has designed its solution focusing on the customer's level of satisfaction in the present time. They make sure the customers do not require to repeat information with seamless 3rd party application integration. They explain that the solution equips agents with the required information even before starting the conversation as information is fetched from CRM & other applications. Further, they assure, the agent will be able to shift channels without switching screens or missing conversation context and all on a unified and dedicated agent workspace.
CXInfinity digitally transforms engagement with its feature of real-time proactive assistance for a personalized experience. No customer will be treated generally anymore. They have built-in tools such as Knowledgebase and Case Management to improve resolution and reduce customer hold time – something critical during the 2020 situation. Their end-to-end solution empowers agents to manage high call volume at reduced average handle time with smart bots to handle level 1 queries in a blink of an eye.
Amit Gandhi, CEO CXInfinity, says, "2020 has brought and is continually bringing many high tides to the lives of people and businesses that have influenced the way we live, absorb things and more. Similarly, customer service engagement has observed a drastic shift towards digital engagement. So, CXInfinity enables businesses to keep up with the expectations of customers by digital omnichannel customer engagement. This single-box solution allows you to handle all channels over one interface. It offers real-time engagement when and where customers' need you. The seamless integration with 3rd party application further equips agents to proactive assist customers with personalization."
About CXInfinity
CXInfinity is the business messaging and customer engagement platform to connect with the customer at the right time over the right channel. It's an integrated and optimized solution that speaks of trust and technology carried for 11 years with NovelVox in the contact center industry. With 98.7% of customer retention and over 70 3rd party integrations, NovelVox has launched CXInfinity that offers infinite scalable and flexible solutions for instant customer support, sales, and marketing over a unified console allowing a switch between channels but not screens/applications. CXInfinity solution caters to businesses of all sizes, including Enterprises and verticals.