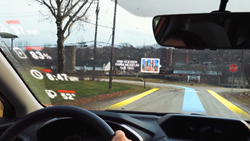 SAN JOSE, Calif. (PRWEB) May 27, 2021
The International Finance Corporation (IFC), a member of the World Bank Group, is investing in CY Vision to make the next generation of assisted and autonomous driving safer and more trusted. CY Vision builds 3D augmented reality systems using standard autograde technologies to address all segments of the automotive market.
CY Vision's approach sets apart electric, autonomous, and new conventional vehicles by turning the windshield into an always available, always visible display for important information. The company goes beyond instrument panels to uniquely project pedestrian and road hazard warnings, navigation and traffic lane information, and provides in-cabin virtual assistance at any visual distance in its full 3D stereoscopic head-up displays (HUDs).
"IFC's investment will help CY Vision deliver safer and more visually engaging experience to vehicle manufacturers across international markets and customer segments. Our approach based on standard automotive grade hardware opens up new markets to the promise of practical and useful augmented reality systems," said CY Vision CEO Orkun Oguz.
"We continue to support CY Vision, this time directly, to enable its disruptive technology development efforts that could eventually enhance the driving safety features of automobiles around the world," said Arnaud Dupoizat, IFC's Country Manager for Turkey and Russia.
Headquartered in Silicon Valley, CY Vision develops holographic display technology and 3D rendering software suites that deliver augmented reality experiences for the challenges of difficult vehicular environments. Built for standard automotive computing platforms, sensor suites, and windshields, the company's products serve mass market and premium vehicles in consumer and commercial markets. Its investors include IFC, Intel Capital, Koc Holding, Revo Capital, and Vestel Ventures.
ABOUT IFC
IFC — a member of the World Bank Group — is the largest global development institution focused on the private sector in emerging markets. We work in more than 100 countries, using our capital, expertise, and influence to create markets and opportunities in developing countries. In fiscal year 2020, we invested $22 billion in private companies and financial institutions in developing countries, leveraging the power of the private sector to end extreme poverty and boost shared prosperity. For more information, visit http://www.ifc.org.