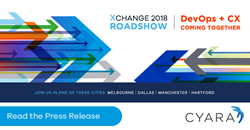 These events are a great opportunity to share industry expertise with some of the world's leading global brands that are setting new standards for customer experience.
REDWOOD CITY, Calif. (PRWEB) October 16, 2018
After a successful inaugural Cyara Xchange conference in San Francisco this March, Cyara is once again bringing together customer experience (CX) leaders and experts. The company will be hosting the Xchange 2018 Roadshow featuring one-day events in four locations around the globe, October through November 2018. The conferences will include customer speakers from Agero, ANZ, Commonwealth Bank, Ministry of Social Development, and Toyota Financial Services, who will share their CX insights and best practices.
"Listening closely to our customers over the past year, we know that customer experience is the new battleground for driving digital transformation and brand loyalty," said Alok Kulkarni, CEO and co-founder, Cyara. "These events are a great opportunity to continue that dialogue, and to share industry expertise with some of the world's leading global brands that are setting new standards for CX."
Xchange 2018: the Confluence of DevOps + CX
The conference will focus on the intersection of DevOps and CX with panel discussions, customer insights, and guest speakers. The conference will address CX innovation, effective testing strategies, Agile and DevOps transformations, and how to monitor and measure CX. The events will also provide the opportunity to network with forward-thinking CX leaders from across the globe.
Several industry thought leaders will speak at the events:

Mirco Hering, APAC DevOps & Agile Practice Lead at Accenture, will share highlights from his book, DevOps for the Modern Enterprise.
Richard Siler of consulting firm McIntosh & Associates will discuss how to successfully support customer interactions across multiple communication channels.
Martin Hill-Wilson, Customer Service, CX & AI Engagement Strategist at Brainfood, will present a practical approach to delivering low-effort, multi-channel customer experiences—based on how customers actually behave and what they expect as core service experiences.
Anne Marie Forsyth, CEO of CCA, will discuss continual improvement methodology and standards for achieving service excellence in customer contact operations.
Xchange sponsors who will speak and demonstrate products at the conferences include Cyara's industry partners: Aspect, blackchair, Convergys, Forty7Ronin, Genesys, inProd, and Voxai Solutions.
For more information and to register, visit the Xchange 2018 website.
The Cyara CX Assurance Platform
The award-winning Cyara CX Assurance Platform helps companies accelerate CX development, increase quality across all digital and voice channels, and assure the quality of customer journeys end-to-end. Cyara Velocity's automation and collaborative environment helps organizations rapidly innovate their CX. Cyara Cruncher then puts CX systems through extensive performance and load-testing, ensuring systems work at scale. Finally, Cyara Pulse delivers real-time CX insights via desktop or mobile phone, enabling customers to identify and troubleshoot problems around the world. Cyara's customers include leading brands across a variety of consumer and business segments including technology, insurance, finance, travel, and retail.
About Cyara
As the world's leading CX Assurance platform provider, Cyara accelerates the delivery of flawless customer journeys across digital and voice channels while reducing the risk of customer-facing defects. Every day, the most recognizable brands around the world trust the Cyara Platform to deliver customer smiles at scale. For more information, please visit http://www.cyara.com.